politics
Trump Gives South Korea Space to Ease Tensions With the North
By and
U.S. president agrees to pause joint exercises during Olympics

North Korea has long sought to derail military exercises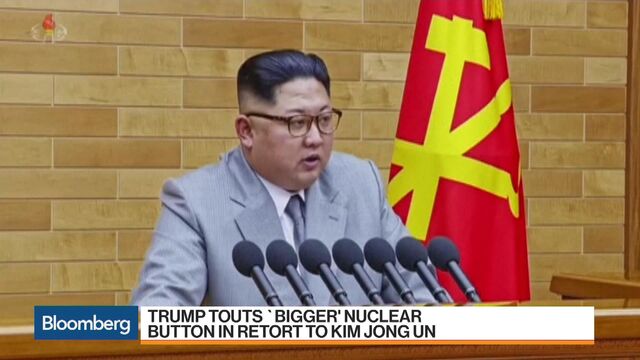 After a year of escalating tensions, President Donald Trump gave room for North Korea and South Korea to improve ties ahead of next month's Winter Olympics, delaying military exercises and praising tentative plans for talks after earlier shunning such diplomatic efforts.
The U.S. president may not have had much choice.
During a 30-minute phone call, South Korean President Moon Jae-in assured Trump that his government would coordinate over talks between the two Koreas next week to discuss the possibility of Pyongyang sending a delegation to the Winter Games in South Korea, Moon's office said. "Talks are a good thing!" Trump tweeted Thursday.

The delay of the annual military drill, long a source of consternation in Pyongyang, was sought by Moon as next month's Olympics approached. South Korea had seized on North Korean leader Kim Jong Un's request to hold talks about sending a team to the Games, quickly proposing a Jan. 9 meeting at a border village. North Korea agreed to that date on Friday.
"It's really a U.S. acquiescence to a South Korean request," said Bruce Klingner, a senior research fellow for Northeast Asia at the Heritage Foundation in Washington.
Nuclear Buttons
The developments have raised hopes that progress can be made toward broader negotiations over North Korea's nuclear weapons program, though significant barriers remain. After Kim said in his New Year's speech that he has a nuclear button on his desk, Trump responded in a tweet that he had one that was "much bigger and more powerful." Last year, the U.S. president took to calling Kim "Little Rocket Man."
Escalating exchanges like the one between Trump and Kim have led experts such as former Defense Secretary William Perry to warn that the world is closer to nuclear catastrophe than it was during the Cold War. White House press secretary Sarah Sanders told reporters on Wednesday that Trump was simply making clear that "this is a president who is committed to protecting Americans" and "he's not going to back down from that."
Despite Trump's latest praise for the North-South talks, his administration has sent conflicting signals on whether it would be open to meetings with representatives of Kim's regime, or between North Korea and South Korea. Last month, Secretary of State Rex Tillerson backed away from comments that the U.S. would be willing to talk with North Korean leaders "without preconditions" after White House officials protested.
The U.S. described the move to put off its annual drill with South Korea as an effort to "de-conflict" the military exercise and the Winter Games, allowing Moon to "focus on ensuring the security" of the Olympics, due to start Feb. 9.
While Moon campaigned on a platform of greater engagement with North Korea, South Koreans have seen both hard-line and more accommodating approaches toward Pyongyang fail over the years. The two sides remain at war technically, and more than 30,000 U.S. troops in the country are stationed as a deterrent to conflict resuming. The latest detente could fail as quickly as earlier efforts.
"We've had times when Kim said something even more enthusiastically reaching out which didn't lead to anything," Klingner said. "The initial request for delaying the Games was, 'Look let's not antagonize North Korea, let's delay them to have a quiet Games.' Given the New Year's Day speech, it's, 'Hey, this could be a vehicle for improving relations."'
Read more: How Kim Exploits Weak Links in U.S.-South Korea Alliance
During the phone call with Moon, Trump said the U.S. would send a delegation, including members of his family, to the Olympics, and that he fully supports the South Korean leader, Moon's office said. Some Trump confidants, such as Republican Senator Lindsey Graham of South Carolina, had urged the U.S. to boycott the Olympics if North Korea participates.
The White House statement on Thursday said "the two leaders agreed to continue the campaign of maximum pressure against North Korea and not to repeat mistakes of the past." That campaign has included multiple rounds of sanctions by the United Nations Security Council targeting Pyongyang's energy imports, its exports of goods including seafood and textiles and North Korean "guest workers" who send remittances from abroad.
The annual military exercises being delayed, known as Foal Eagle/Key Resolve are among the most significant conducted by the two countries, and involve more than 20,000 U.S. and South Korean troops along with representatives from several other nations. In 2016 they ran from March 7-April 30. If the same dates were to apply this year, that would mean the drills would overlap with the Paralympics but not the Olympic Games themselves.

The Pentagon indicated the exercises would be postponed, not canceled. Colonel Rob Manning, a Pentagon spokesman, said in a statement Thursday that "in the spirit of the Olympic Games, the United States and the Republic of Korea (ROK) will de-conflict the start of our annual U.S.-ROK joint exercises until after the conclusion of the Winter Olympics."
Defense Secretary Jim Mattis on Thursday said the military exercises would begin some time after the Paralympics end on March 18.
"We have at times changed the timelines on these for any number of reasons," he said. "So, to us this is the normal give and take that we have. Remember, we're doing this at the host country's invitation."
— With assistance by Anthony Capaccio
(
Updates with North Korea agreeing to talks.
)
Before it's here, it's on the Bloomberg Terminal.
LEARN MORE