Snowstorm Has Power Surging to Highest in Almost Four Years
By , , and
Prices in PJM Interconnection jumped to most since March 2014

Power demand climbed through the morning in rare pattern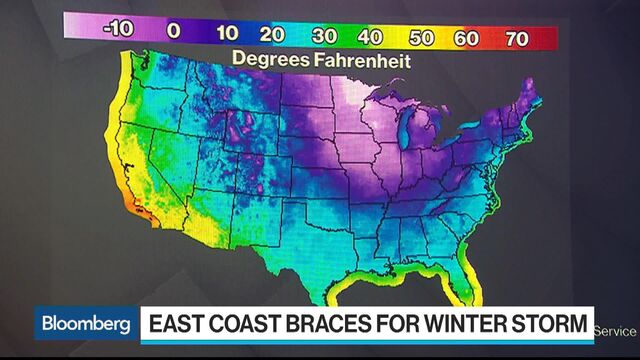 The blizzard pummeling the East Coast is keeping kids out of school and droves of adults are working from home. That's boosting midday electricity demand, a rare event that's causing some of the highest prices in almost four years.
Wholesale power at a benchmark hub in the eastern U.S. gained 126 percent to average $273.23 a megawatt-hour in the hour ended 10 a.m. local time. That's the highest average for that period since March 2014, according to Genscape Inc. data compiled by Bloomberg. Across the PJM Interconnection LLC grid, the power system that stretches from Illinois to Washington, D.C., load climbed all morning, exceeding 127,000 megawatts in the hour ended at noon.
Both of those are unusual patterns, reflecting an unusual day with winter-storm warnings covering parts of 13 eastern states.
"On a typical winter day, it's coldest in the morning and evening, and you'll have a morning peak and an evening peak in power demand," said Patrick Finn, a Genscape analyst for the PJM region. "Today, specifically in the Mid-Atlantic, just with all the cloud cover and snow and precipitation, it makes demand hang up a little bit."

Spot prices are also surging for natural gas, used for both heating and power-plant fuel. It traded at more than $100 per million British thermal units at five locations Thursday and will likely settle there, according to a person familiar with trading there. Prices for New York City were averaging $140 after spiking to $175, a record for the Northeast, said John Borruso, director of natural gas trading at Con Edison Energy in Valhalla, New York.
In New England, Entergy Corp.'s 700-megawatt Pilgrim nuclear power station tripped offline, a company spokesman confirmed. Spot power prices rallied above $300 a megawatt-hour shortly after 2 p.m., when the outage became apparent, said Robert Lance, a Genscape analyst that covers the New England market.
"We expect extremely expensive gas-fired generation and oil units to fill in for the loss of baseload supply," Lance said. "Given an already tight supply stack, it's an 'all hands on deck' mentality."
However, some gas plants were down briefly Thursday as the extreme weather presented operational challenges, according to Dynegy Inc.
Nonetheless, gas-fired generation was up about 1,000 megawatts Thursday compared to other mornings this week -- a result, perhaps, of power plants there being able to procure more of the fuel at a time when some industrial and commercial customers were closed from the snow, said John Mahoney, an analyst at Bloomberg New Energy Finance.
Fuel Oil
That's helped utilities curb their use of fuel oil for power generation, amid some concerns of limited supplies as the cold weather hinders production. For much of the morning, gas once again led the way as a source of electricity generation, according to ISO New England Inc., the system manager. Wind generation is also up during the storm.
In New York City, power prices jumped in the early afternoon to $240.89 a megawatt hour, up 75 percent from yesterday. Total load across New York reached more than 22,500 megawatts as of 12:50 p.m., at least 6.6 percent higher than forecasts, according to the New York Independent System Operator.
"People are staying home," said Shunondo Basu, an analyst at Bloomberg New Energy Finance. "Normally, you'd get that midday dip in demand, you'd get that peak in the morning and afternoon. But on a day like today, that might not be as pronounced."
Before it's here, it's on the Bloomberg Terminal.
LEARN MORE