Labor Force in San Juan Is Falling Faster Than Anywhere Else in U.S.
By and
Ponce, Aguadilla statistical areas also lost many workers

Worker exodus could be the dagger for downtrodden island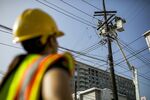 Puerto Rico's biggest metropolitan area is losing workers far faster than anywhere else in the U.S., adding to questions about how the bankrupt and storm-ravaged island can turn around its moribund economy and fix its finances.
The U.S. commonwealth's San Juan-Carolina-Caguas area lost 145,664 workers in the past decade through November, according to U.S. Department of Labor data released Thursday. That's the worst among any metropolitan region and twice as bad as the second worst, Cleveland-Elyria, Ohio. Ponce and Aguadilla-Isabela, Puerto Rico, were also among the fastest-shrinking labor forces.
A protracted slump prompted hundreds of thousands of Puerto Ricans to leave their homes for places such as Florida and Pennsylvania over the past 10 years, and the steady trickle became a flood after Hurricane Maria. The storm, which hit in September, has left the government in such shambles that it hasn't even been able to reliably say how many people were killed. It also left the entire island without electricity, and close to half of electric utility customers still don't have power.
The loss of workers means the government can't expand its revenue base, and is also affecting collections of the sales and use taxes, said Antonio Fernos, economics professor at Universidad Interamericana in San Juan.
Gustavo Velez, an economist in Puerto Rico and president of consulting firm Inteligencia Economica, said the local treasury has lost $1.2 billion from individual taxpayers as a result of the decade-long exodus.
The island is under the oversight of a congress-created fiscal control board, and the drop in revenue could prompt calls for even harsher austerity.
Before it's here, it's on the Bloomberg Terminal.
LEARN MORE