politics
Lithuanian Leaders Clash Over Whether to Thaw Frosty Russia Ties
By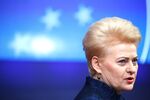 Lithuania's top politicians clashed over whether to rejuvenate ties with Russia that were frozen following President Vladimir Putin's 2014 annexation of Crimea from Ukraine.
Lithuanian Prime Minister Saulius Skvernelis has recently urged resuming dialog with the Russian government, advocating talks on topics such as trade, energy, agriculture and transport, while maintaining the current stance on Ukraine. President Dalia Grybauskaite, a vocal Putin critic and backer of European Union sanctions against Russia, rejected closer cooperation as "inexpedient and irresponsible in terms of national security."
"It would be naive to imagine economic relations with this country decoupled from politics," Grybauskaite said Thursday in an emailed statement. "Russia has always used energy, trade and other instruments as measures to assert political pressure and influence other countries. Our own experience only confirms this."
The Baltic region, once and unwilling part of the Soviet Union and still home to Russian-speaking minorities, was rattled by the conflict in Ukraine and supported the EU sanctions that followed it. Lithuania is now the only EU member state without working contacts with the Kremlin, despite Russia being its top trading partner and the destination for 15 percent of its exports.
The nation of 2.8 million people, whose dairy and other goods have been banned by Russia in the past, has held no meetings with officials from Putin's administration since 2014. Skvernelis said the lack of contact damages state interests.
Before it's here, it's on the Bloomberg Terminal.
LEARN MORE