Intel May Be Down But Many Analysts See Buying Opportunity
By
Wall Street confident company is taking the right steps

Financial impact should be kept to a minimum, analysts say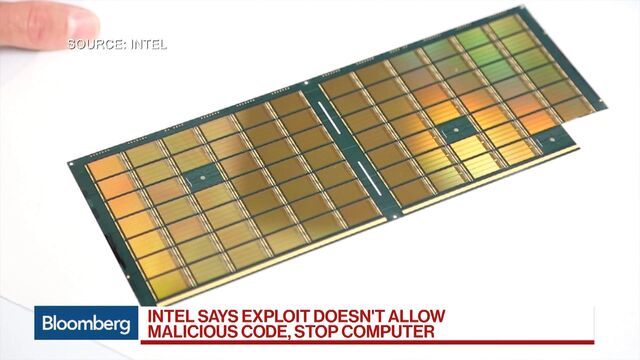 Intel Corp. shares have dropped more than 5 percent since a report about a vulnerability in its chips that makes them susceptible to hackers, but some analysts see a buying opportunity.
Researchers at Google recently discovered that a feature, present in almost all of the billions of processors that run computers and phones around the world, could give cyberattackers unauthorized access to sensitive data -- and a remedy to the problem could drag on device performance. News of the weakness, found last year and reported Tuesday by The Register technology blog, weighed on shares of Intel, the biggest semiconductor maker, while boosting rivals including Advanced Micro Devices Inc.
Intel is working with chipmakers including Advanced Micro Devices Inc. and ARM Holdings, and operating system makers to resolve the issue, and has said it doesn't foresee a material effect on its business.
Despite the issues, some analysts are confident that Intel and others are taking the appropriate steps to handle the matter, and that the financial impact will be minimal. Here's a wrap.
Deutsche Bank Securities: Ross Seymore
"We see little risk to Intel's market share and financials, as Intel has already been working with ecosystem partners for some time in developing and deploying software and firmware updates...We expect Intel and its partners to resolve these issues relatively quickly. Given the temporary nature of this issue, we view the pullback in Intel shares as an opportunity to add to positions and we reiterate our Buy rating."
Macquarie Capital: Srini Pajjuri
"We expect the overall impact on Intel's financials to be minor and do not foresee any meaningful share shifts. We remain positive on Intel given the operating expense improvements, Purley product cycle, and progress on the Artificial Intelligence/Machine Learning front. Reiterate outperform."
Needham & Co.: N Quinn Bolton
"The reality is side-channel attacks take advantage of the speculative execution feature included in nearly all modern microprocessors, including Intel, AMD and ARM Cortex-A microprocessors, so this is not an Intel-specific issue. There is no 'bug' or 'flaw' in the Intel microprocessor design. Accordingly, Intel does not anticipate taking any one-time charges as a result of this new security risk."
Credit Suisse Securities: John Pitzer
"While we do not find current valuation particularly compelling" the sell-off "related to speculation of security issues appears to have been an overreaction."
Stifel Nicolaus & Co.: Kevin Cassidy
"Our conclusion is that Google, Intel, AMD and the technology industry is proactively working on finding and resolving security issues. We see these efforts as extremely positive for protecting investments in technology companies."
Intel has 24 buys, 14 holds and 4 sell ratings with an average 12-month price target of $47.06, according to data compiled by Bloomberg.
— With assistance by Stephen Sweeney, and Ian King
Before it's here, it's on the Bloomberg Terminal.
LEARN MORE