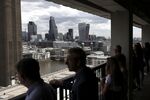 The U.K. fund management industry is in deep, deep trouble, according to the consensus. Money is fleeing to low-cost passive investment products; profit margins are under unparalleled pressure; and the introduction of MiFID II will add a layer of expensive reporting requirements. The business model faces an existential crisis.
And yet:
Just about every story written about British asset managers in the past few years refers to fee pressure, industry consolidation and the idea that bigger is better. The writer will then cite the merger of Standard Life Group Plc and Aberdeen Asset Management Plc and Henderson Group Plc's tie-up with Janus Capital Group Inc. of the U.S. as evidence. But where's the third mega combo that proves the thesis?
In August, Rathbone Brothers Plc said it was in talks to merge with closely held Smith & Williamson Group Holdings Ltd., which would have created a company with combined assets under management of 56 billion pounds ($76 billion). The deal collapsed after Tilney Bestinvest Group Ltd. made a rival all-cash bid. But that transaction also failed to complete.
Rathbone Chief Executive Officer Philip Howell said in October that the firm would continue to look at M&A to bulk up; but no new deal has yet materialized.
Jupiter Fund Management Plc is the perennial subject of takeover talk. In May, CEO Maarten Slendebroek told my Bloomberg News colleague Sarah Jones that he avoids meeting with investment bankers "to stay out of trouble." So far, his method seems to be working.
By October, Jupiter's assets had swollen to more than 48 billion pounds, an increase of 19 percent since the start of the year. Its share price, moreover, ended 2017 at a record. And after under-performing expectations for the last few years, the stock is currently some 11 percent above the 12-month consensus target among the 20 analysts that follow the company.
So far, U.K. fund managers seem to be adapting to their straitened circumstances, keeping their operating margins remarkably stable, without falling into the arms of potential suitors or buying rivals to bulk up. Schroders Plc Chairman Michael Dobson told Bloomberg News in October that he's not looking at any big acquisitions; emerging market specialist Ashmore Group Plc, another firm that's been constantly tipped as a takeover target, remains independent.
For sure, the outlook for the industry could worsen further. Fees will continue to drop, and cost-cutting can only get you so far. The financial burden of investing in new technology will continue to grow, as will the expenses associated with increased regulation. And it's hard to see Brexit being anything other than negative, whatever the outcome of the U.K.'s negotiations on the future status of its financial industry.
But for now, reports of a tsunami of merger activity hitting the U.K. fund management industry seem greatly exaggerated.
Before it's here, it's on the Bloomberg Terminal.
LEARN MORE