technology
Women Suing Google for Pay Disparity Narrow Proposed Class
By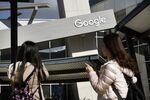 Women suing Google Inc. of systemically paying male employees more than their female counterparts added a plaintiff and narrowed the definition of the proposed class in an amended lawsuit filed Wednesday.
San Francisco Superior Court Judge Mary E. Wiss dismissed the lawsuit last month, saying the proposed class, covering "all women employed by Google in California," was too broad. The judge allowed the women to file an amended complaint
The lawsuit claims that Google pays women less for equal or similar work and puts women on career paths with lower pay ceilings
The amended complaint defines the class as women in more than 2 dozen specific job titles including software engineer, project manager and sales representative
The complaint adds Heidi Lamar as a named plaintiff, who was employed by Google as a preschool teacher at Google's Children Center from about July 2013 to August 2017
She joins Kelly Ellis, who worked for Google from 2010 to 2014; Holly Pease, who performed a variety of managerial roles at two Google offices from 2005 to 2016; and Kelli Wisuri, worked as a sales communications specialist and "brand evangelist" from 2012 to 2015
A copy of the amended complaint was obtained by Bloomberg News and couldn't immediately be verified in the docket
The case is Ellis v. Google Inc., CGC-17-561299, Superior Court, San Francisco County, California
Before it's here, it's on the Bloomberg Terminal.
LEARN MORE