quicktake
How Much Authority Does Mueller Really Have?
By and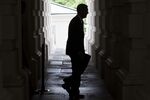 A special counsel like Robert Mueller is granted a level of independence and autonomy to lead investigations of politically sensitive matters of national importance. But the position doesn't come without limits. A lawsuit filed by one of Mueller's targets, Paul Manafort, former chairman of President Donald Trump's 2016 campaign, will test the scope of the authority granted to Mueller, whose investigation of Russian meddling in the 2016 campaign has spilled over to Trump's associates and perhaps the president himself.
1. What's a special counsel?
It's a lawyer from outside of government named by the U.S. attorney general to take over an investigation that poses a conflict of interest for the Justice Department. The 1999 rule establishing the position says a special counsel should have "a reputation for integrity and impartial decision making" and is supposed to "not be subject to the day-to-day supervision of any official of the department."
2. Does the special counsel report to anybody?
Yes, usually to the attorney general. But in this case, Mueller answers to the deputy attorney general, Rod Rosenstein, who made the decision to give the case to a special counsel. He also appointed Mueller, a former FBI director. Rosenstein's boss, Attorney General Jeff Sessions, who'd been a Trump campaign adviser, recused himself from overseeing the probe.
3. What authority does Rosenstein have over Mueller?
He could dismiss him upon a finding of "misconduct, dereliction of duty, incapacity, conflict of interest" or "other good cause." Rosenstein has said, as recently as Dec. 13, that he sees no such reason to dismiss Mueller. Short of that, Rosenstein could reel in the investigation by finding one of more of its strategies or techniques "so inappropriate or unwarranted under established departmental practices that it should not be pursued." Rosenstein has given no indication that he's contemplating this step, either.
4. Why is Mueller allowed to look beyond the Russia question?
The Justice Department's May 17 order appointing Mueller instructs him to investigate "any links and/or coordination between the Russian government and individuals associated with the campaign," as well as -- and this is key -- "any matters that arose or may arise directly from the investigation." Trump and his lawyer, John Dowd, say that digging into matters beyond Russia and the 2016 election is out of bounds.
The Reference Shelf
Before it's here, it's on the Bloomberg Terminal.
LEARN MORE