politics
Iran's Poor Turn Against Its Ruling Clerics
By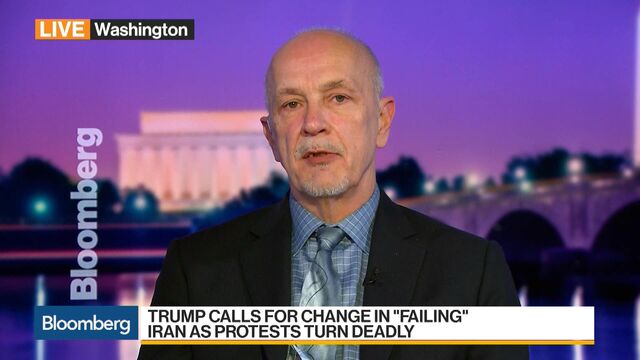 Want to receive this post in your inbox every morning? Sign up for the Balance of Power newsletter, and follow Bloomberg Politics on Twitter and Facebook for more.
Iran's protests began far from Tehran over the cost of living. Soon demonstrators were calling for the death of the Islamic Republic's supreme leader. The escalation was swift, as was security forces' response.
While Tehran's middle class led much bigger protests in 2009, this time it's mainly Iranians of modest means living in smaller towns and the countryside, a constituency that has traditionally provided the ruling clerics with a core of support.

For President Hassan Rouhani, a moderate, the protests are also a major challenge. At home hardliners are assailing his economic record, and they played a role in organizing the initial rally in the holy city of Mashhad last week. Iran's international foes, led by U.S. President Donald Trump, meanwhile are ratcheting up the pressure.

Emboldening Rouhani and his wing of the political establishment was a founding principle of the 2015 nuclear deal struck between world powers and Iran. How the demonstrations end — with either a security crackdown or protesters feeling they're being listened to — will help decide his future.

Global Headlines
Koreas talk over Trump taunts | Pyongyang used a hotline to speak with Seoul for the first time in two years after North Korean leader Kim Jong Un proposed sending a delegation to next month's Winter Olympics in South Korea. The breakthrough came despite Trump's war of words with Kim, who had earlier warned the nuclear button was "always on my desk." Trump responded on Twitter yesterday, saying he had "a much bigger & more powerful" button. 
Jerusalem fallout | Also on Trump's Twitter hit list yesterday: the Palestinian Authority. He threatened to freeze U.S. aid after the group's leaders condemned his decision to recognize Jerusalem as Israel's capital. A cut off - the U.S. sent the PA about $616 million in 2016 - could undermine moderates and compromise security, as U.S. aid funds Palestinian security forces. The PA responded by saying it wouldn't "succumb to blackmail."
Keeping up with bitcoin | The financial disclosures that members of Congress and federal officials file to guard against insider trading and conflicts of interest don't explicitly mention bitcoin. As lawmakers and U.S. agencies mull how to regulate the emerging market, the gray area is generating concern from ethics specialists. Questions that have dogged cryptocurrencies since their inception (like, are they currencies or commodities?) may play a crucial role in how much politicians can dabble.

Putin threat | A Russian opposition leader may be banned from running in the March presidential election, but as Henry Meyer writes today, he still poses a threat to the Kremlin. Alexey Navalny — a forbidden subject for state television and someone Vladimir Putin never mentions in public — is calling for a boycott of the ballot to deny a legitimate victory for a man who's poised to become Russia's longest-serving leader since Josef Stalin. 

ECB politics | The European Central Bank is heading for a two-year leadership overhaul culminating with the replacement of President Mario Draghi. The new faces who will take over five of the seven top posts by end-2019 will shape policy for the institution that almost single-handedly saved the euro during the sovereign-debt crisis and decide how to unwind the ECB's unprecedented money-printing stimulus.
And finally ... As digital companies disrupt industries from retail to transportation, they're also wreaking havoc in a traditional bastion of political power: France's Confederation Generale du Travail labor union. As Helene Fouquet and Mark Deen report, the CGT has been late to recognize the concerns of workers for the likes of Uber and Amazon — and is paying the price in falling membership. That growing irrelevance may help President Emmanuel Macron push through labor reforms in a country where strikes once regularly brought the economy to a halt.

— With assistance by Brendan Scott, and Mark Williams
Before it's here, it's on the Bloomberg Terminal.
LEARN MORE