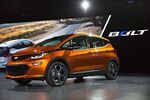 And the prize for America's best-selling electric car not made by Elon Musk goes to ... the Chevrolet Bolt.
General Motors Co.'s plug-in Bolt outsold Nissan Motor Co.'s electric Leaf more than two-to-one in the U.S. last year, data reported by the automakers Wednesday showed. The Bolt capped its first full year of sales with its strongest month, delivering more than 3,200 units in December as employee pricing offers to the public got attention for a car that's only been available nationally since August.
The Bolt also outsold plug-in hybrid models including Toyota Motor Corp.'s Prius Prime and Chevy's own Volt. It was probably surpassed only by Tesla Inc., whose Model S was the top-selling electric vehicle globally in 2016. Tesla projected sales of about 100,000 Model S sedans and Model X crossovers worldwide for last year, though the company doesn't break out how many of those deliveries were to U.S. buyers.
The Bolt gaining momentum may be a sign that drivers who like plug-in cars increasingly want pure EVs, not hybrids that use a combination of gasoline power and electric drive. The Chevy Volt plug-in hybrid's sales shorted out last year, falling 18 percent from 2016 levels. Still, even with growing interest in the Bolt and Tesla's expanding lineup, pure electric cars make up just 0.6 percent of the U.S. vehicle market, according to researcher Cox Automotive Inc.
There were a couple other mitigating factors in GM's victory over Nissan in the plug-in segment. Nissan is in the process of clearing out the old Leaf and making way for a completely redesigned model, which will be available at U.S. dealerships later this month.
"We have a lot of orders in the pipeline. If we can deliver on all the orders that we have, it will definitely be a solid first quarter for us," Judy Wheeler, Nissan's vice president for U.S. sales, said in a phone interview. "After that will be a better time for getting a perspective on possibilities for the new Leaf."
Both the Bolt and the Leaf will be challenged by Tesla's Model 3, which hits a similar price point at $35,000. The automaker run by Musk has been trying to overcome manufacturing problems to ramp up Model 3 production, with details on Tesla's fourth-quarter output expected as soon as today.
For more on electric vehicles, check out the Decrypted podcast:
Before it's here, it's on the Bloomberg Terminal.
LEARN MORE