Five Things We Learned About MiFID II on Its First Day at Work
By and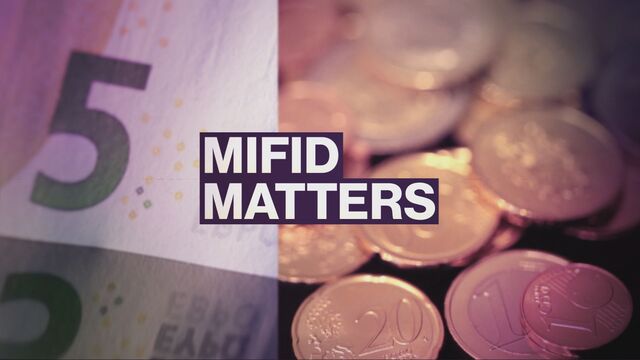 MiFID II came to life. And belying its billing as a "Big Bang" that would cause disruption as it transforms the European Union's financial markets, its first day turned out to be more of a whimper as traders waited to see how the shakeup panned out. Here are five things we learned:
1. There were some minor glitches
So far, so good, according to Steven Maijoor, head of the European Securities and Markets Authority. That's despite some snags, especially with the special codes everyone needs to trade with an EU-based counterparty, called legal entity identifiers, or LEIs. Certain firms have yet to acquire them, and they've been granted a six-month reprieve by the EU. The grace period might be more of a curse than a blessing: Some systems have already been programmed to block non-LEI trades.
2. Volumes were light
Liquidity issues may only be temporary, as people tiptoe around problems including price discovery and transaction reporting. Trading volume was light in equities and other asset classes on Wednesday, and some dealers were unable to price certain interest-rate swaps. Trading in Europe's biggest stocks was about 13 percent lower than the past 30 days, a period that had already seen some of the lightest activity since the dotcom bubble burst. While the holiday season may have also been a factor, it didn't seem to affect what turned out to be a very busy trading session in the U.S. 

3. More to come
Caps on dark pools -- private markets that are used to hide big stock orders so that traders can't bet against them -- won't kick in until next week, when most traders return from holiday. Whether those trades will move onto lit exchanges or other trading venues is anyone's guess, but the buzzword here is SI. Many large banks and trading firms have said they plan to become systematic internalizers, alternative trading venues that are able to sidestep MiFID's dark-pool limits.
4. Race to the bottom
Research providers are continuing to cut what they charge investors to read their publications, or to speak to their analysts, in a bid to retain market share. While many clients had signed agreements to guarantee access before Wednesday, flexibility clauses have allowed for changes, according to Union Investment. On the execution side, those that feared a plunge in prices may be breathing a sigh or relief: some hedge funds are actually happy to pay banks more in a bet that in return they'll get VIP service.
5. Derivatives can wait
U.K. regulators granted Intercontinental Exchange Inc. and London Metal Exchange venues a 30-month reprieve from having to comply with a key requirement that would have allowed traders to transact a deal on one venue and have it guaranteed at a separate clearinghouse. That came on the heels of the decision by Germany's financial supervisor, BaFin, to grant a similar exemption for Deutsche Boerse AG's Eurex clearing unit and hence may not augur well for the success of the law in turbocharging competition.
— With assistance by Will Hadfield, Silla Brush, and Trista Kelley
Quotes from this Article
Before it's here, it's on the Bloomberg Terminal.
LEARN MORE