Photographer: Andrew Harrer/Bloomberg
Congress May Need Another Stopgap Even With a Budget Agreement
By and
Meeting with White House officials resumes spending talks

Deal needing Senate Democrats could lose House conservatives
Congressional leaders pursuing a deal to lift budget limits on defense and domestic spending face a Jan. 19 deadline that may force them to seek yet another a stopgap funding measure to avert an election-year government shutdown.
The Republican and Democratic leadership emerged from a meeting with White House officials Wednesday signaling progress on an agreement and commitment to reaching one without giving any indication that either sides had budged much from the positions they held going into the talks.
"It is important that we achieve a two-year agreement that funds our troops and provides for our national security and other critical functions of the federal government," Senate Majority Leader Mitch McConnell and House Speaker Paul Ryan said in a statement issued jointly with the White House. "It also remains important that members of Congress do not hold funding for our troops hostage for immigration policy."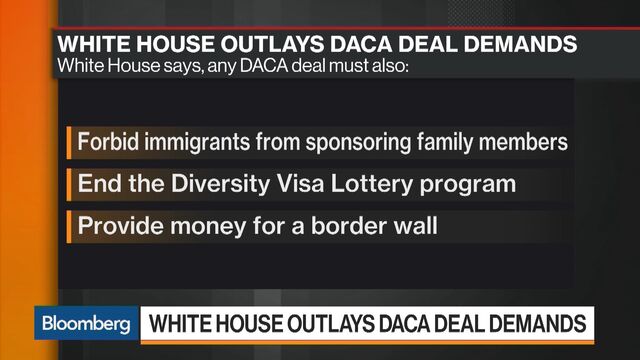 Senator Democratic leader Charles Schumer and House Democratic leader Nancy Pelosi, who are pushing to raise domestic spending and resolve the status of undocumented immigrants brought to the U.S. as children, issued a terse statement calling the meeting "positive and productive."
Discretionary Spending
The negotiators are trying to reach a spending deal that would increase the $1.2 trillion federal discretionary budget by about $100 billion this year and a comparable amount next year. Republicans want to increase defense spending -- which accounts for almost half of the discretionary budget -- by $54 billion this year and non-defense programs by $37 billion. Democrats want equal increases in both.
Congress was unable to address the budget caps or a host of other issues before the end of 2017 and punted by passing two temporary spending measures. The last of those runs out Jan. 19. Even if the leaders reach a deal to lift the spending limits in the next two weeks, they likely won't have enough time to write all the spending items to carry the government through the rest of the fiscal year.
David Reich, a senior fellow at the Center on Budget and Policy Priorities who spent 17 years on the staff of the House Appropriations Committee, said working out the numbers for a detailed spending plan would take about a month once the overall budget amount is agreed to. But there are also policy issues related to funding, including an immigration deal that can be affected by how federal money is allocated.
Getting to Agreement
"It's very difficult to make any progress on working out the detailed numbers until you have a topline," Reich said in a telephone interview. "If everyone's extremely agreeable, maybe they could do it in three weeks. But we'll see how agreeable people are feeling."
Senator John Cornyn of Texas, the No. 2 Republican leader, said the debate feels like "Groundhog Day."
"Every day we wake up and nothing seems to change around here," he said Wednesday before the meeting in Ryan's office. "I don't see how things get any better if we kick the can down the road any further."
Even though Republicans control both chambers, Democrats have leverage because any resolution will need at least 60 votes to get through the Senate. And now there are two groups within the GOP raising potential roadblocks to a deal that would meet Democratic demands for more funding of domestic programs.
Spending Levels
GOP fiscal conservatives want to cut government spending rather than raise it, even though many of them voted for a tax cut last month that is projected to add at least $1 trillion to federal deficits over the next decade.
The other group includes the defense hawks who usually oppose temporary funding bills that leave the military operating at current budget levels. Ryan of Wisconsin was able to persuade many of them to vote for last month's stopgap measures with an appeal to stick together while the GOP was working on final passage of the tax overhaul. But some of them felt burned by Ryan's last-minute decision to not force a vote on full defense funding for the rest of the fiscal year.
Now the various factions have a chance to use the Jan. 19 deadline to force their own priorities. That includes not just actual spending levels, but many of the same policy battles that have surfaced with every spending discussion since September.
"Everybody thinks they have more leverage right now," said Dan Holler, vice president of the conservative organization Heritage Action for America.
Democratic Unity
Democrats in the House and Senate have been largely united in their spending goals, which is part of the reason why a deal is so difficult. Along with parity on defense and domestic spending increases, they want a handful of unrelated measures in the must-pass bill that may not draw enough support from Republicans to pass both chambers on their own.
That includes two measures designed to bolster Obamacare by lowering premiums for people buying individual insurance on the program's exchanges, and legislation offering extended deportation protections and a pathway to citizenship for 800,000 undocumented immigrants brought to the U.S. as children. Some Republicans have also advocated for these measures.
Schumer of New York is under added pressure to deliver on the promise of protection for the young immigrants, known as "dreamers."
Senator Lindsey Graham, a South Carolina Republican, said talks with Democrats on a broader immigration measure are showing promise and could result in legislation this month. He said the lawmakers are trying to work quickly to get it out of the way before campaigning for the congressional elections in November gets fully underway.
"The closer you get to 2018, the harder it is," Graham said.
The compromise under discussion would include the Democratic demands for so-called dreamers, Graham said, as well as elements from a conservative GOP proposal. That measure would set tougher eligibility requirements for young immigrants and prevent them from bringing relatives to the U.S., known as chain migration.
He said the group is working on a border security package that would include some accommodation of President Donald Trump's campaign promise to build some type of fortified barrier at the U.S.-Mexico border. Trump plans to meet with a group of Republican senators on immigration at the White House on Thursday.
"We recognize that there has to be strong border security with a wall component," Graham said.
Before it's here, it's on the Bloomberg Terminal.
LEARN MORE