Ugandan Leader Signs 'Life Presidency' Legislation Into Law
By
Museveni signed bill on Dec. 27, a week after lawmakers did so

Former guerilla has been in power for more than three decades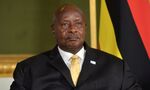 Ugandan President Yoweri Museveni signed a controversial law that abolishes an age limit of 75 for candidates seeking to lead the country, positioning him to potentially extend his three-decade rule.
"He assented to the enactment and it now becomes law," presidential spokesman Don Wanyama said by phone from the capital, Kampala. 
Museveni, 73, signed the legislation on Dec. 27, Wanyama said. He can now vie for a sixth elected term in 2021. The former guerilla leader has been in power since 1986 and only Teodoro Obiang Nguema of Equatorial Guinea, Paul Biya of Cameroon and Denis Sassou Nguesso of the Republic of Congo have led their nations for longer.
Opposition lawmakers and civil society group protested against the bill that was passed by a majority of lawmakers in parliament a week before Museveni signed it. Parliament also approved a seven-year tenure for lawmakers from five years, starting with the current term.
"It sets a bad precedent for the country, what Ugandans need is not a life presidency," said Livingstone Sewanyana, executive director of Kampala-based Foundation for Human Rights Initiative. "We are not surprised by his assent to the bill because it was largely his scheme."
Museveni has defended the constitutional change, saying it would help ease what he called a leadership crisis in Africa. Age limits deny the population the right to choose their leaders, he said.
Before it's here, it's on the Bloomberg Terminal.
LEARN MORE