Trump Threatens to Cut Off U.S. Aid to Palestinian Authority
By
Palestinians condemn recognizing Jerusalem as Israeli capital

U.S. sent $616 million to Palestinians in 2016, agency says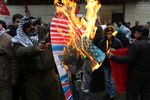 President Donald Trump threatened to cut off U.S. aid to the Palestinian Authority after its leaders said the president's unilateral decision to recognize Jerusalem as the capital of Israel disqualified America as a Middle East peace mediator.
Trump said in a series of tweets Tuesday that the U.S. pays "the Palestinians HUNDRED OF MILLIONS OF DOLLARS a year" yet gets "no appreciation or respect." He added that "with the Palestinians no longer willing to talk peace, why should we make any of these massive future payments to them?"
The White House communications staff declined to comment other than to refer reporters back to the president's tweet.
Trump has repeatedly threatened in recent weeks to punish U.S. aid recipients that defy the administration's foreign policy objectives. He also threatened aid to nations that voted against the U.S. before a United Nations General Assembly vote in December condemning Trump's decision on Jerusalem, and on New Year's Day tweeted a threat to cut off aid to Pakistan.
The U.S. disbursed about $616 million in foreign aid for the Palestinian Authority in 2016, according to the U.S. Agency for International Development's website. That funding included support for debt payments, water supply and sanitation and health projects, according to the agency.
Palestinian leaders said Trump's Dec. 6 decision to declare Jerusalem to be the capital of Israel and move the U.S. embassy there disqualified the U.S. from being a mediator in any Israel-Palestinian negotiations. The backlash is at least a temporary blow to the administration's heavily promoted Middle East peace effort led by Trump son-in-law Jared Kushner.

The international community also condemned Trump's decision, with the General Assembly voting 128-9 to back a resolution critical of the move. Palestinians consider East Jerusalem to be their capital and any final decision about the city has long been considered something to be worked out in joint peace talks.
The president threatened countries that voted for the UN resolution with aid cutoffs in comments to reporters at a Dec. 20 cabinet meeting.
"They take hundreds of millions of dollars and even billions of dollars, and then they vote against us," Trump said. "Well, we're watching those votes. Let them vote against us, we'll save a lot. We don't care."
Trump threatened aid to Pakistan in a Jan. 1 tweet over frustration with that country's level of cooperation in fighting terrorism. He said the U.S. has "foolishly" given more than $33 billion in aid to Pakistan and gotten only "lies and deceit" in return.
Pakistan has long posed contradictions for the U.S.: it's a partner in the fight against terrorism yet is also the country where Osama bin Laden hid out for years before being killed in a nighttime raid by U.S. Navy Seals in 2011. Since 2015, the U.S. has denied Pakistan $650 million in Coalition Support Fund reimbursements that could be released only if the U.S. military certified that the country was making acceptable progress against the Haqqani network, a militant group that is affiliated with the Taliban.
Before it's here, it's on the Bloomberg Terminal.
LEARN MORE