Game Changer
The Mastermind Behind Chase's Industry-Changing Sapphire Reserve Card Sets Her Sights on Banking
Pam Codispoti dreamed up the travel-and-experiences rewards card, which rocked rival American Express. Now, she plans to overhaul the way millennials use banks.
By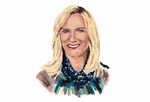 Pam Codispoti had a dilemma. She'd been brought on by JPMorgan Chase & Co. to develop a credit card for affluent millennials in 2014—a time when no one thought the group wanted credit cards.
"We found that just not to be true," says Codispoti, who was president of Chase's branded cards unit. "What they were looking for was something different than what the market had to offer at the time. They weren't interested in their father's credit card." So the 52-year-old executive and her team embarked on a listening tour in living rooms and coffee shops across America to find out what millennials wanted out of a premium card. The answer? Something that offered flexible rewards for the categories they cared about: dining and travel.
Chase's response was the Sapphire Reserve. The $450-a-year card came with a sign-up bonus of 100,000 reward points and allowed holders to use them at a wide variety of hotels, airlines, restaurants, and more. Holders were also rewarded extra for spending in those categories, and even given a $300 annual travel credit. It was an instant hit with the target audience, who gobbled it up so quickly that JPMorgan ran out of the metal used to mint it.
"That these credits could be applied to stuff like Uber—no one had a product like that," says Sanjay Sakhrani, an analyst at Keefe, Bruyette & Woods Inc. "It forced others to change how they were thinking about the product and who they were addressing." The card kicked off an arms race in the space, with American Express Co., Citigroup Inc., and others scrambling to offer improved rewards. AmEx executives later lamented that the offer was a "full frontal assault" on its Platinum card, and noted a temporary increase in attrition.
The introductory perks were enough to attract card­holders, but the real challenge lay in keeping them, Codispoti says. So JPMorgan transformed the Sapphire Reserve into a lifestyle, planning special experiences and working with such celebrity influencers as Chrissy Teigen. Codispoti, who spent 18 years at AmEx before joining JPMorgan, says the company opted against deploying any formal marketing campaign at first, choosing instead to rely on word-of-mouth. It was daring for the credit card giant, which has spent $13.2 billion on marketing in the last five years. Now, second-year branding students at Harvard Business School do a case study on the Sapphire Reserve.
In 2017, Codispoti was promoted to oversee JPMorgan's network of 5,200 branches. Once again, she's been tasked with enticing millennials, who make up 61 percent of the consumer bank's new customers. Codispoti has visions of offering advice centers, akin to Apple Inc.'s Genius Bar, where customers can discuss financial goals such as saving for retirement or buying a first home. Millennials prefer to have a conversation about such things, Codispoti says. "So we're going to make the experience much more high-touch, much more interactive."
Before it's here, it's on the Bloomberg Terminal.
LEARN MORE