Power Traders Got Too Bullish About This New England Cold Snap
By
Traders locked in power for well above spot prices on Tuesday

Electricity demand tracking below projections weighs on market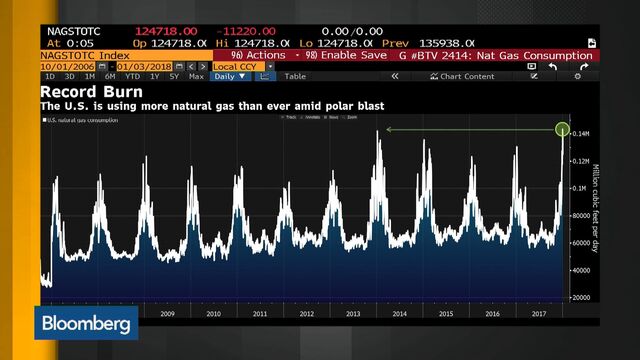 Looks like some power bulls got too far over their skis in New England this morning.
While a deep freeze continues to grip the eastern half of the U.S., with some cities logging record low temperatures, wholesale electricity prices have failed to skyrocket the way they did last week. In fact, at a hub in Boston, power was trading for half of what it was on Friday, even as people blasted heaters to keep warm amid temperatures in the teens.

Power bulls have only the forecasts to blame. Actual electricity demand in New England has tracked below projections for much of the day, data from grid manager ISO New England Inc. show. The power system is running under "normal conditions," with more oil-fired power plants kicking in to keep up with the rise in use, the grid operator said by email.
Buyers locked in power supplies for Boston a day in advance at an average of $194.57 a megawatt-hour for the hour ended at noon New York time, but power there only averaged $148.66 a megawatt-hour in spot trading. That's down 49 percent from Friday. Electricity in New York City meanwhile slid to $180 in the hour ended 10 a.m. after surging to almost $400 a day earlier.
Temperatures in Boston on Tuesday were higher than they were a day earlier, and a winter storm striking later this week may end up warming Boston even more, according to Accuweather Inc. These forecasts may be discouraging bids from some of the region's most expensive plants, said Kit Konolige, a utilities analyst for Bloomberg Intelligence in New York.
The region has meanwhile continued to rely on oil as the largest power source during the cold snap, followed by natural gas and nuclear. Fuel oil accounted for about a third of the region's power Tuesday morning and was used to generate the most power since at least September 2014, grid data compiled by Bloomberg.
Before it's here, it's on the Bloomberg Terminal.
LEARN MORE