politics
Potential Political Landmines Ahead for Trump in 2018
By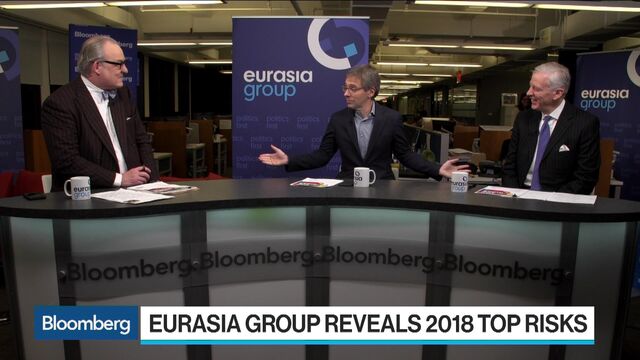 Want to receive this post in your inbox every morning? Sign up for the Balance of Power newsletter, and follow Bloomberg Politics on Twitter and Facebook for more.
It's a new year, but Donald Trump is facing the same old problems. Here are just some of the challenges looming as the U.S. president returns to work in Washington today:
The Mueller probe: Special Counsel Robert Mueller's investigation into Russian meddling in the 2016 election has already produced the indictment of Trump's former campaign chairman, Paul Manafort, and guilty pleas by two campaign aides. The big question is who's next? Trump, who had sought to discredit the probe as a partisan witch hunt, told the New York Times last week that he believed Mueller was "going to be fair."
The midterms: Fresh off last month's upset Senate win in Alabama, Democrats are gunning for congressional seats in November — perhaps enough to take back the U.S. House. Frustrations with the implementation of the Republicans' sweeping tax overhaul may help them along.
Global hot spots: 2018 is rife with foreign policy risks for Trump. As anti-government protests roil Iran, North Korean leader Kim Jong Un began the new year warning that  "the nuclear button is always on my desk."

Global Headlines
Iranian protests grind on | Authorities in the Islamic Republic played down unrest that has left about 20 people dead since Thursday, with Ali Shamkhani, secretary general of the Supreme National Security Council, predicting the rallies would disperse in "a few days." The demonstrations, which initially decried economic malaise under President Hassan Rouhani before shifting to the broader political establishment, represent the biggest challenge to Iran's theocracy since 2009.
Winter Olympics thaw? | South Korea proposed high-level talks next week to discuss North Korea's participation in the upcoming Winter Games in Pyeongchang, a move that could reduce fears of Kim disrupting events. The overture came after he signaled a new openness to negotiations with Seoul in his new year message, a shift that tests South Korea's commitment to Washington's hard line. 
(Another) spending showdown | Congressional leaders are set to head to the White House tomorrow to re-launch top-level bipartisan talks over funding the government past Jan. 19. Look for brinkmanship over several issues, including immigration. Trump has said he will insist that funding for his proposed wall on the Mexican border — which Democrats vehemently oppose — be paired with any effort to extend deportation protections to those brought to the U.S. illegally as children. 
Brexit or bust | With the U.K. due to exit the European Union in March 2019, this will be the year that determines its future relationship with its biggest trading partner. It's also make or break for Prime Minister Theresa May, whose minority government remains riven over Europe. Reports of an imminent cabinet reshuffle suggest May still sees a way to close the rifts and move forward.
European tag team | German Chancellor Angela Merkel and French President Emmanuel Macron again presented a united front in defense of the European project in their new year messages. Macron said 2018 would be a decisive year to expand the bloc's influence, while Merkel pledged to speed formation of her fourth-term government, and focus on strengthening Europe. Each leader cited the other's country as a vital partner in the task.
And finally… The success of one southern Indian city offers hope that one of the world's largest garbage producers may start to get a handle on its rubbish problem in 2018. Buoyed by subsidies from Prime Minister Narendra Modi's government — and a reputation for order that stretches back centuries — Mysuru is leading efforts to turn India's mountains of trash into cash, as Bibhudatta Pradhan reports. The country processes less than 30 percent of the 62 million tons of waste it produces each year. 

— With assistance by Mark Williams
Before it's here, it's on the Bloomberg Terminal.
LEARN MORE