politics
Utah's Hatch to Retire From Senate, Opening Door for Romney Bid
By
Longest-serving Republican in U.S. history chairs tax panel

Romney making rounds in Utah but hasn't announced intentions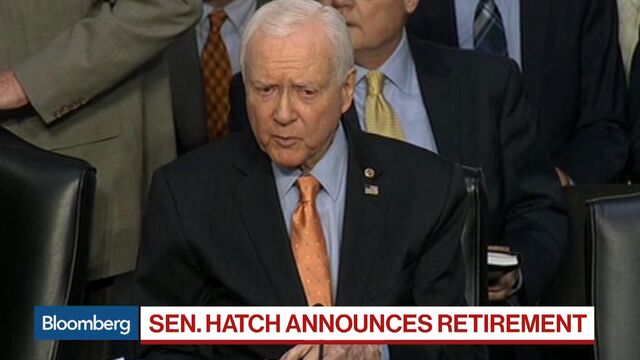 Senator Orrin Hatch of Utah, the longest-serving Republican senator in U.S. history and a leader of last year's successful effort to rewrite the U.S. tax code, said he won't seek an eighth term in 2018.
"Every good fighter knows when to hang up the gloves, and for me that time is soon approaching," said Hatch, 83, the conservative chairman of the Senate Finance Committee, in a video posted Tuesday on Twitter. "I've decided to retire at the end of this term."
The decision may open the way to a Senate bid by Mitt Romney, the former Massachusetts governor and two-time GOP presidential contender. Romney, who was passed over by President Donald Trump for secretary of state, now lives in Utah and has been making the rounds at political events in the state, but hasn't publicly said whether he'll run. Romney, 70, is viewed as a Republican elder statesman who could challenge Trump, whom he has called a "fraud."
Romney on Tuesday praised Hatch's "more than forty years of service to our great state and nation" on Twitter but gave no indication of his intentions.
Trump congratulated Hatch "on an an absolutely incredible career" in a message on Twitter. "He has been a tremendous supporter, and I will never forget the (beyond kind) statements he has made about me as President."
Senate Retirements
Hatch joins Tennessee's Bob Corker and Arizona's Jeff Flake, all Republicans, in announcing retirements from the Senate at the end of their current terms. His exit could spark maneuvering among fellow Republicans for chairmanship of the Finance Committee, which oversees taxes, trade and entitlements. Among the potential successors are Iowa's Chuck Grassley, chairman of the Judiciary Committee, Idaho's Mike Crapo, head of the Banking Committee, Kansas's Pat Roberts, chairman of the Agriculture Committee, and Texas's John Cornyn, the majority whip.
First elected in 1976, Hatch is now the presiding officer of the Senate, a position third in the presidential line of succession.
His four decades in the Senate have spanned seven presidencies and included his own unsuccessful Oval Office bid in 2000, which ended when he finished last in the Iowa caucuses. He's been chairman of three Senate committees: Finance, Judiciary, and Health.
Staunch Conservative
Hatch has been a hard-line backer of conservative causes such as tax cuts, gun rights, opposition to abortion, and a balanced-budget constitutional amendment.
While Hatch has a genial demeanor, he can be a fierce partisan. In November, he strongly criticized Democrats on his committee who opposed the GOP tax-cut plan championed by party leaders and Trump. In 2009, he was the first Republican to quit a seven-member bipartisan Senate Finance Committee group that sought to craft what eventually became Obamacare. He told reporters he doubted it was something he could ever support after learning what Democrats were seeking in a health-care overhaul.
Yet he also has a track record of bipartisanship. He joined with the late Senator Ted Kennedy, a Massachusetts Democrat, in sponsoring the Americans with Disabilities Act and legislation creating the Children's Health Insurance Program, which extends health coverage to low-income kids. With Democratic Senator Patrick Leahy of Vermont, he's pushed through key changes to patent law.
Immigration
And in 2013, Hatch was one of 14 Senate Republicans who voted for immigration legislation that would have provided a path to legal permanent residency for some undocumented immigrants.
Hatch's willingness to reach across the aisle made him a top target of the small-government Tea Party movement in 2012, two years after it derailed Utah Republican Senator Robert Bennett's bid for a fourth term. Hatch spent months wooing Utah Tea Party activists, and while he failed to get enough support from state GOP convention delegates to avoid a primary, he defeated his primary opponent and went on to win a seventh term.
Since then, Hatch has aligned himself with Trump. In the 2016 campaign when the bombastic New Yorker got a tepid reception from Utah's socially conservative Mormons, Hatch, himself a Mormon, told state delegates at the Republican National Convention they should look past their concerns and focus on the potential to appoint conservative justices to the Supreme Court.
Helping Trump
After Trump's victory, Hatch helped lead the unsuccessful effort to replace the Affordable Care Act and played a key role in the drive to rewrite the tax code and cut the corporate tax rate. As a senior member of the Senate Judiciary Committee, he also helped champion the confirmation of Supreme Court Justice Neil Gorsuch, Trump's pick to replace the late Justice Antonin Scalia. He also defended the president's decision to endorse controversial Republican Senate candidate Roy Moore in Alabama.
At a White House event on Dec. 20 to celebrate passage of the tax legislation, Hatch lavished praise on Trump, saying Republicans would "keep fighting to make this the greatest presidency we've seen not only in generations but maybe ever."
Trump has responded in kind. He told reporters in early December that he was encouraging Hatch to seek an eighth term, which would have blocked a potential run by Romney.
A Dec. 25 editorial in the Salt Lake Tribune called on Hatch to retire, citing the passage of the tax overhaul, his role in urging Trump to reduce the size of two national monuments in Utah, and the senator's "utter lack of integrity that rises from his unquenchable thirst for power." The newspaper named him the "Utahn of the Year" to having the biggest impact on the state, "for good or for ill."
Romney has long been a Trump critic. During the 2016 campaign, Romney emerged as a leader of the GOP "Never Trump" movement, attacking the billionaire business owner as a "phony" and urging primary voters to pick someone else. Tensions between the two seemed to relax after the election. Trump considered Romney for secretary of state but chose Rex Tillerson instead. Hatch said last month that he'd like somebody like Romney to replace him if he decides to retire.
White House press secretary Sarah Sanders said she hasn't talked with the president about whether he would support and campaign for Romney. She said Trump "is very sad to see Senator Hatch leave and knows that he will certainly be missed."
Senate Majority Leader Mitch McConnell, a Kentucky Republican, said Hatch was a leader on "countless issues of critical importance to the American people."
"He will depart as one of the most productive members ever to serve in this body," McConnell said.
No matter what Romney decides, Republicans are heavily favored to win Hatch's seat. The last Democrat to hold a Senate seat from the state was Frank Moss, defeated by Hatch in 1976. Utah gave 45.5 percent of its vote to Trump in 2016, while Democratic presidential nominee Hillary Clinton received just 27.5 percent and independent candidate Evan McMullin got 21.5 percent.
The 2018 Utah Senate race hasn't yet taken shape. Democratic Salt Lake County Councilwoman Jenny Wilson is running, and independent McMullin is another potential candidate.
— With assistance by Brian Nutting, Sahil Kapur, and Jennifer Epstein
(
Updates with Trump tweet in fifth paragraph.
)
Before it's here, it's on the Bloomberg Terminal.
LEARN MORE