politics
U.S. Affirms Pence Plan to Visit Israel This Month After Delay
By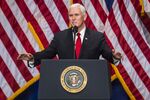 Vice President Mike Pence, who postponed a Middle East trip after Arab leaders denounced the U.S. for recognizing Jerusalem as Israel's capital, will come this month despite speculation that he had delayed it again, an aide said.
"Pence is traveling to Israel & Egypt later this month," Pence's Deputy Chief of Staff & Communications Director Jarrod Agen said on Twitter.
The confirmation came after Israeli foreign ministry spokesman Emmanuel Nahshon said the visit isn't included in the schedule of high-level dignitaries in January, fueling speculation that the vice president had postponed his trip for a second time. Pence had planned to meet with Egyptian President Abdel-Fattah El-Sisi and Israeli Prime Minister Benjamin Netanyahu in December and deliver a speech to the Israeli Knesset, but the visit was put off until this month.
The official reason given was a critical Senate vote on the tax bill, but the postponement followed Arab objections to President Donald Trump's decision to recognize Jerusalem as Israel's capital. Palestinian Authority President Mahmoud Abbas, who claims east Jerusalem for the capital of a future state of Palestine, canceled a scheduled meeting with Pence in response to the U.S. move.
Before it's here, it's on the Bloomberg Terminal.
LEARN MORE