politics
Denmark's Prime Minister Commits to Cut Income Tax in 2018
By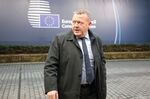 Danish Prime Minister Lars Lokke Rasmussen said he wants to conclude the government's planned tax reform this year, targeting income tax cuts for workers with low and medium-sized wages.
The tax cuts will make it more feasible to work, which will bring more people to the job market and help ease Denmark's labor shortage, Rasmussen said in his New Year's speech on Monday.
Here are some of the other points the prime minister highlighted in his speech:
The government wants to balance tax cuts with welfare improvements
More Danes must become self-sufficient because the state needs funds to pay for cancer treatments, elderly care and more research
The government will shortly move more state jobs out of Copenhagen
Denmark has accepted too many immigrants in the past, exceeding how many the country was capable of integrating
Immigrants planning to stay in Denmark must assume responsibility. "It's not an issue of skin color or religion. It's a question of choosing Denmark."
War refugees must return to their home countries as soon as the conditions allow it, but the government should provide education for them while in Denmark
Before it's here, it's on the Bloomberg Terminal.
LEARN MORE