U.K. Plans to Reverse 'Staircase Tax' That Hit Small Companies
By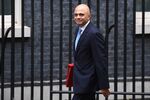 U.K. Communities Secretary Sajid Javid proposed a draft law to reverse the so-called staircase tax that raised the local rates paid by small businesses on their premises.
A court ruling in 2015 altered the local business rates payable by companies operating out of two or more rooms in the same building linked by communal corridors, staircases or elevators. Where previously they had paid a single bill, they now faced two or more charges. 
Javid published a consultation on Friday that would reverse the change. Under the proposals Javid would give companies the chance of having their rates bills recalculated, entitling them to backdated refunds. The consultation runs until Feb. 23.
"The staircase tax has arbitrarily penalized small firms simply because they shared a communal staircase, corridor or even car park with another business," Federation of Small Businesses Chairman Mike Cherry said in an emailed statement. "It is very good news that the government has stepped in to repeal this ludicrous tax and I hope politicians of all parties will now back its abolition when it is put to Parliament."
Before it's here, it's on the Bloomberg Terminal.
LEARN MORE