World's Most Valuable Liquor Maker Will Raise Prices of Its Popular Moutai Drink by 18%
By
Spirits maker increases prices for first time in five years

Stock jumps most in over two years, approaching all-time high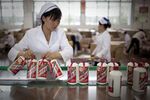 Shares of Kweichow Moutai Co. gained the most since mid-2015 after the world's most valuable spirits maker said it will raise the price for its signature drink for the first time in five years.
The Chinese state-owned company announced Thursday an average 18 percent increase across its product line as it holds an annual conference with dealers at its headquarters in Guizhou province. Moutai confirmed that the factory-gate price of the group's core baijiu product, Flying Fairy, will rise to 969 yuan ($148) per bottle from the current 819 yuan. The brand accounts for more than 90 percent of the listed company's revenue.
The company's shares gained 8.2 percent in Shanghai on Thursday, the most since July 2015 and closing just short of an all-time high. Other Chinese liquor makers also rallied.

Moutai is catching up with Chinese rivals that have been raising prices this year. The company, which has seen pressure from state-run media because of its soaring market valuation, emphasized in April that prices should be based on affordability for mass customers, and that the group would take action to stabilize market prices and wouldn't pursue excessive profits from the business.
Moutai's signature grain liquor, which has traditionally been the drink of choice among the country's elite, has found widespread popularity among China's middle class as they embrace a more affluent lifestyle. Moutai said Thursday it expects liquor sales volume to grow 34 percent in 2017 from a year earlier, while profit will rise about 58 percent this year.
Soaring Valuation
The company's stock has more than doubled in 2017, reaching a record in November. That prompted China's Xinhua to say last month the runup has been too fast, sending the stock tumbling as much as 14 percent. It has been climbing back during December, and Thursday all but erased those declines.
Rival Wuliangye Yibin Co, the nation's second-largest liquor maker by market value, has lifted retail prices three times this year. Chinese baijiu maker Sichuan Swellfun Co, owned by Diageo Plc, also had an increase in July, China's official Xinhua News Agency reported.
Moutai is raising the factory-gate price of its products. It also sets a resale price of 1,299 yuan, but bottles routinely go for more than 1,500 yuan online and through its dealers, as China's improving economy is boosting demand for high-end liquors.
In addition to increasing prices, Moutai is looking to grow by expanding beyond its core liquor operations. Chairman Yuan Renguo said in an interview with Bloomberg this month that the group is planning initial public offerings for three businesses by 2020, including its e-commerce unit. It is also pushing ahead into financial services.
Before it's here, it's on the Bloomberg Terminal.
LEARN MORE