markets
Consumer Comfort in U.S. Jumps to Highest Level Since September
By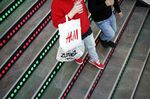 Americans' sentiment last week climbed to the strongest level since early September on more upbeat views about the economy and personal finances after passage of tax cut legislation, according to the Bloomberg Consumer Comfort Index released Thursday.
Highlights of Consumer Comfort (Week Ended Dec. 23)
Weekly index rose to 52.4 from 50.8
Measure tracking current views of economy jumped to 54.1, the highest since the week ended Aug. 27, from 51.3
Index of buying climate was little changed at 43.3 after 43.1
Personal finances gauge increased to 59.6 from 58, led by Republicans 
Key Takeaways
The gain in confidence, the first in three weeks, shows Americans are upbeat about the economy as stocks rally, unemployment lingers near a 17-year low and property values increase. The gauge of sentiment about the economy is now at its second-highest level since 2001. What's more, Republican households were particularly optimistic about their financial situation following passage of the tax cut package.
Other Details
Sentiment among Republicans increased to the highest reading since May 2007; gap between GOP and Democrats favors Republicans by the widest margin in almost a decade
Comfort among men climbed to a six-week high; women's gauge recouped some of previous week's slide
Comfort gauge of consumers in the South advanced to the highest since April 2007; West at five-week high
Those surveyed who had less than a high-school education were the most optimistic since April 2007
Before it's here, it's on the Bloomberg Terminal.
LEARN MORE