Fight to Oust Taliban Set to Get Tougher as Afghan Funding Drops
By
International grants may fall as much as 50 percent in 2020

Security sector receives 40 percent of Afghanistan budget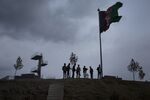 International funding for Afghanistan is expected to plummet by 2020, pushing the country toward a fiscal cliff that will hinder its fight against the Taliban and Islamic State militants.
For President Ashraf Ghani's government, already struggling to contain a resurgent Taliban amid a deteriorating security situation, efforts to address corruption and increase transparency in order to secure future international donors have taken on new urgency.
Boosting Afghanistan's capacity to fight militants is crucial for security in South Asia, one of the most volatile regions in the world. The U.S. and other international donors pay for about 55 percent of the war-torn country's national budget of 361 billion Afghanis ($5.1 billion) for 2018 fiscal year, said Khalid Payenda, a deputy finance minister. The government will have a $144 million deficit that will need to be covered by domestic savings, he said.
"Our security agencies are financially reliant on international funding," said Mohammad Hashim, the deputy head of the National Economic Commission of Parliament. "That's ringing alarm bells because a major part of the aid cuts are expected to hinder the government's efforts to fighting the insurgents."
The Brussels conference on Afghanistan in 2016 pledged more than $15 billion until 2020 and most of those pledges have been met, Payenda said, noting there would be another two donor conferences to discuss what happens post-2020.
A significant decline in grants would be "the worst-case scenario," Payenda said by phone from Kabul. "We have three or four years to develop discipline and reduce corruption. The international funding will decline dramatically from next year, and it's expected to fall by more than 50 percent by 2020."
Afghanistan is on a long list of countries in need of assistance. And while it's still viewed as a "special case," Payenda said "it won't remain a special case forever" because "there's so much competition in the world for donor money."
Security Spending
The Taliban are holding more territory than any time since they were toppled by the U.S. invasion in 2001. The militant group now controls or influences 43 percent of the country, a six percent increase since last year, according to a report by the U.S. watchdog Special Inspector General for Afghanistan Reconstruction.
About 40 percent of the country's budget is allocated for the security spending, which covers the salaries of the 460,000 personnel in the Defense Ministry, Interior Ministry and National Directorate of Security -- including 320,000 Afghan forces -- as well as maintenance costs, according to government documents. There's also off-budget spending for the Afghan military that's not included in government figures.
Still, next year's budget has yet to be finalized. Afghan parliamentarians unanimously rejected the budget for the fiscal year 2018 on Dec. 13, citing concerns over funding allocations. The finance ministry is due to submit an amended version for approval by next week, according to an emailed statement from the ministry.
Amid the budget turmoil, U.S. President Donald Trump's August announcement of an open-ended commitment to Afghanistan that put extra U.S. resources into the nation's longest-lasting conflict has been welcomed by the government in Kabul. It's raised the number of troops in Afghanistan training and advising local servicemen to 14,000.
Read more: U.S. Touts Afghanistan Special-Operations Raids in Rare Detail
His policy move was seen as an indication that the U.S. is not abandoning Afghanistan, Ajmal Ahmady, a senior economic adviser to the President Ashraf Ghani, said by phone.
Donor countries "sees us as a partner," because as well as supporting the security forces that protect Afghanistan, their funds also contribute to security for the international community, Ahmady said.
Although the government's domestic revenues -- now $2.3 billion -- are expected to rise 10 percent per year until 2021, it won't cover expenditure for the years ahead, Ahmady said.
In the meantime, President Ghani is trying to wean the country off its reliance on donor funds by making his country a transit nation to connect South Asia and Central Asia. He's also eyeing Afghanistan's rich untapped natural resources, estimated to be around one trillion dollars.
Regional projects like Turkmenistan, Afghanistan, Pakistan and India gas pipeline, known as TAPI, and the CASA power project can generate "hundreds of millions of dollars" in transit fees for Afghanistan, Ahmady said.
Before it's here, it's on the Bloomberg Terminal.
LEARN MORE