Ex-Steinhoff Chair Wiese's Loss Dwarfs GDP of 13 Nations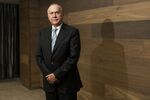 Christo Wiese was one of Africa's richest people. But in 2017, the former chairman of scandal-hit Steinhoff International NV lost more wealth than the gross domestic product of at least 13 of the continent's countries . The billionaire is the biggest shareholder in the furniture and clothing company, which has plunged more than 90 percent this month amid accounting irregularities.
Before it's here, it's on the Bloomberg Terminal.
LEARN MORE