Boutique Bank Insiders Sold $100 Million of Their Own Firms' Stock This Year
By and
Firm's insiders sold $54.7 million worth of stock, led by CEO

Houlihan Lokey, Moelis leaders cash in more than $10 million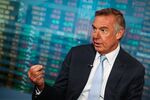 Boutique bank bigwigs are cashing in on their firms' success, and none more than insiders at Evercore Inc.
Six executives at New York-based Evercore sold stock valued at $54.7 million, led by Chief Executive Officer Ralph Schlosstein, who alone disposed of $44.3 million, according to data compiled by Bloomberg through Dec. 20. At Houlihan Lokey Inc., the same number of insiders sold a combined $22.6 million this year, led by Chairman Irwin Gold with $7.61 million.
"We are late stages in this boom cycle, and while we don't think a correction will be drastic, it does seem that now is as good a time to sell," said Noah Schwarz, senior partner at executive-search firm Korn Ferry. "There are many variables that may make this window pass, so we are not surprised many executives are seizing the moment."
The S&P 500 Financials Index has risen 20 percent this year and several independent banks have surged even more as they don't have to worry about businesses, like trading, that have slumped at larger rivals. The firms have attracted many of Wall Street's most-tenured bankers in recent years, luring them with a focus on dealmaking and richer compensation.
Evercore is the 10th-ranked adviser on M&A transactions globally in 2017, according to data compiled by Bloomberg, and is helping Aetna Inc. with the insurer's $67 billion sale to CVS Health Corp. The stock is up 34 percent this year. Houlihan Lokey, whose shares have more than doubled since the 2015 initial public offering, has been boosting its M&A work.
Representatives from the firms declined to comment. 

Public company executives typically sell shares periodically to cash in on gains and diversify their holdings. Far fewer buy shares in the open market, but doing so can be a way to publicly demonstrate faith in the company and signal that the stock is undervalued.
PJT Partners Inc. was an outlier, with insiders buying $1.36 million of stock, led by CEO Paul J. Taubman's $915,275. Executives have been investing in the company's growth since it went public in late 2015. That year, Taubman and a group of colleagues acquired an investor's 8 percent stake for almost $30 million and insiders went on to scoop up another $3.86 million in 2016.
Greenhill & Co., whose shares have slid 27 percent this year, said in September it will borrow $300 million to buy back 30 percent of its stock, cut its tax bill and increase per-share earnings. Co-President David Wyles was the only insider who sold stock this year, disposing of $1.56 million.

In 2016, Evercore executives unloaded $30.3 million of stock while one senior manager at Lazard Ltd. sold $1.47 million. Greenhill, Moelis & Co. and Houlihan Lokey recorded no insider sales that year.
Company insiders include named executive officers and directors. Transactions by people or entities that own more than 10 percent of a company's shares were excluded.
— With assistance by Jenn Zhao
(
Corrects Evercore's advisory ranking in fifth paragraph of story published on Dec. 27.
)
Before it's here, it's on the Bloomberg Terminal.
LEARN MORE