Uzbek Leader Purges Finance Ministry to Make Way for New Blood
By
Minister fires 50 officials as part of new president's reforms

Mirziyoev urges hiring of young people 'who love Uzbekistan'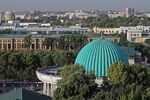 Uzbek Finance Minister Djamshid Kuchkarov fired about 50 subordinates to comply with an order from President Shavkat Mirziyoev or risk losing his own job.
The purge, which included almost all department heads and their deputies, is expected to continue, the Uzbek branch of Radio Free Europe/Radio Liberty reported. The service cited a ministry official it didn't identify as saying dismissals are expected to continue and everyone at the ministry "is in fear."
Since taking over the tightly controlled Central Asian nation a year ago, Mirziyoev has moved to open up the economy, lifting currency controls and easing travel restrictions. During a four-hour address to parliament on Friday, he told Kuchkarov to "expel everybody around you" and staff the ministry with younger people "who love and care about Uzbekistan" and its citizens.
The president also promised to curb the powers of the former Soviet republic's police and security services and reform the statistics service to provide more realistic data about the state of the economy.
Before it's here, it's on the Bloomberg Terminal.
LEARN MORE