Och-Ziff Moves Away From $280 Million Man Levin as CEO-in-Waiting
By and
Dan Och decided Levin would not succeed him as chief executive

Founder Och sent note to clients on day before Christmas Eve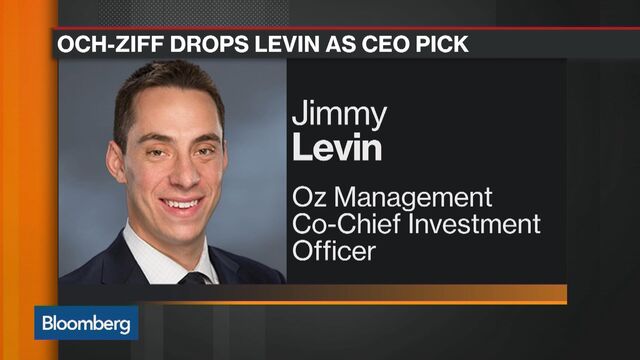 Jimmy Levin, the star trader and heir apparent to the founder of Och-Ziff Capital Management Group, won't get the top job at the hedge fund after all, according to people familiar with the firm.
Dan Och, who founded the firm more than two decades ago and is still chief executive officer, has changed his mind about Levin and will now seek a successor from the outside, according to the people, who asked not to be named because the information is private.

Och, 56, said in a note to clients sent out Saturday that after conferring with the board, he decided that it wasn't the right time for Levin, 34, to take over, according to the people. He said he hoped Levin would remain co-chief investment officer. Och didn't give a reason for his change in thinking.
Och shocked Wall Street in February when he promoted Levin and awarded him an incentive package worth as much as $280 million. His rapid rise upset some people at the firm, and a few executives have departed.
Levin, who has worked at Och-Ziff since 2006, first met Och when he was a counselor and water skiing instructor at a camp in Wisconsin where Och's sons spent part of their summers. He didn't immediately return a phone call and text seeking comment.
Seed Money
Dan Och founded the hedge fund with $100 million from the Ziff brothers, the publishing scions, and has built the firm into one with assets that reached almost $50 billion at its 2015 peak.
Since then the firm's assets have declined to $32.2 billion, following a U.S. probe into bribery in Africa that ended last year with a unit of the firm pleading guilty to a conspiracy charge as part of a settlement that included a $412 million criminal penalty.
"It's not worth spending time wallowing," Levin said in a July interview. "It's definitely been a challenging time, but to move forward we're just focused on what we can influence, and that's our investing." The firm's main fund returned 9.9 percent this year through November.
A spokesman for Och-Ziff declined to comment. Levin didn't respond to a message seeking comment.
Before it's here, it's on the Bloomberg Terminal.
LEARN MORE