Thousands of Israelis Take to the Streets Against Corruption
By
Conservatives demonstrate in Jerusalem, liberals in Tel Aviv

Key Netanyahu ally says PM can't continue serving if indicted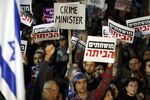 Thousands of Israelis demonstrated against government corruption as police move to wrap up an investigation of Prime Minister Benjamin Netanyahu on suspicions of bribery.
In addition to the weekly march in central Tel Aviv by liberal opponents of the government, which police said drew about 5,000 people, about 500 conservatives normally allied with Netanyahu held a parallel protest Saturday night in Jerusalem. Adding to the pressure on the prime minister, a key Netanyahu ally said Saturday that the premier can't continue serving if indicted, even as he ridiculed some of the allegations.
"A sitting prime minister of the State of Israel against whom an indictment is served for bribery can't continue to be prime minister," said new government coalition whip David Amsalem, a parliamentarian from Netanyahu's Likud Party. He later clarified that he didn't consider the suspicions against Netanyahu to rise to the level of bribery.
Police are investigating Netanyahu in two separate cases. In one, he's suspected of receiving tens of thousands of dollars worth of cigars and champagne from wealthy friends. In the second, he's accused of collaborating with a newspaper publisher to pass legislation that would benefit the publisher's business in return for favorable coverage.
To learn more about the Netanyahu investigations, click here
Netanyahu has denied any wrongdoing. He's described the cases as a witch-hunt by political opponents and noted the steady stream of leaks from the police investigation to news outlets that he considers hostile. Even if the police recommend that he be indicted -- the ultimate decision rests with the attorney general -- "so what?" Netanyahu said last week.
Amsalem, in his comments on Saturday, also mocked the police investigation. 
"In a normal, fair and balanced democratic regime, you don't investigate a prime minister for receiving cigars from a friend," he said in remarks broadcast on Israeli media. "It's absurd and it's a slippery slope. Tomorrow why not arrest and investigate a prime minister for receiving a few chocolate bars?"
In Israel's increasingly tense political atmosphere, another Netanyahu ally, Finance Minister Moshe Kahlon of the Kulanu Party, defended the police last week, urging them to ignore the attacks against them and continue their investigations.
Saturday's main protest in Tel Aviv appeared smaller than in previous weeks, and Israeli politicians criticized a protester there who displayed a guillotine. Former Prime Minister Yitzhak Rabin was assassinated in 1995 after being portrayed as a Nazi at anti-government demonstrations, and President Reuven Rivlin took to Twitter on Sunday to blast the guillotine display as "clear incitement" to violence.
"An act as we saw last night, a guillotine at a demonstration, was a sin against peaceful protesters & the democratic right to protest," Rivlin said. "I condemn the clear statements implied by such an exhibit."
Before it's here, it's on the Bloomberg Terminal.
LEARN MORE