Trump Will Nominate Powell for Fed Chair Again
By and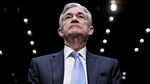 President Donald Trump will nominate Jerome Powell again to serve as the chair of the Federal Reserve after the Senate adjourned Thursday without voting to confirm him, White House spokeswoman Natalie Strom said.
The White House must renominate people for the next session if their nominations weren't handled in the previous one. The Wall Street Journal reported earlier Friday Trump's intention to renominate Powell, as well as Marvin Goodfriend, who's been nominated to serve on the Fed's board of governors.
Trump picked Powell in November to succeed current chairwoman Janet Yellen, whose term expires in February. His nomination was approved in early December by the Senate Banking Committee.
The Senate allowed some nominations to continue into the next session, but didn't include Powell and many others on that list.
Before it's here, it's on the Bloomberg Terminal.
LEARN MORE