Trump's Gone Quiet in a Key Market-Moving Part of His Tweeting
By
Company-specific tweets have tapered off since inauguration

But Wells Fargo knows his missives can still wallop a stock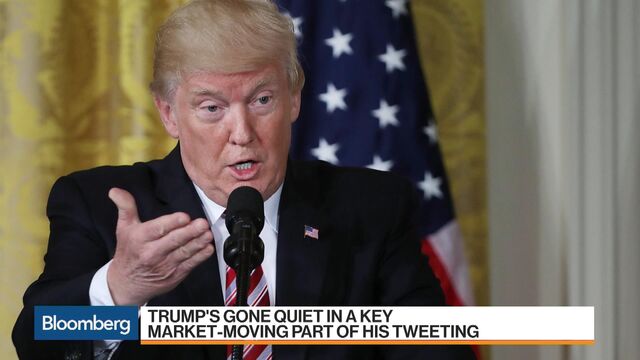 It seemed for a while this January that President Donald Trump's jawboning of corporate titans via Twitter was destined to be a near daily occurrence for the next four years.
In the span of one week alone that month, Trump, then still president-elect, denounced General Motors Co. and Toyota Motor Corp. for making cars in Mexico, heaped praise on Fiat Chrysler Automobiles NV and Ford Motor Co. for hiring in the U.S. and suggested a congressional probe be launched into NBC, a subsidiary of Comcast Corp. It felt non-stop and a bit chaotic and managed to generate a brand new, albeit selective, source of volatility in the market. (The stocks in question often fell after Trump's prodding, only to rebound shortly thereafter.)
And then the tweeting -- or at least that kind of tweeting -- came to an abrupt halt. It's not clear what triggered the change of tack but the drop-off is stark: No single month since has produced even half the number of Trump tweets that called out companies by name, according to data compiled by Bloomberg.
That's not to say that traders can tune out his tweeting. He's still capable of rattling a stock. Like the time just a couple of weeks ago when he fired off a missive warning that fines and penalties against Wells Fargo "will not be dropped" and could even be "substantially increased." The bank's share price slumped 0.6 percent in less than two minutes.
Quotes from this Article
Before it's here, it's on the Bloomberg Terminal.
LEARN MORE