MLB Teams Up With Bejing Enterprises to Build Baseball Academies
By
China has a 10-year plan for $7.6 billion baseball economy

Goal is to create 20 million fans, develop MLB players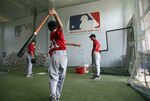 Major League Baseball has signed a 10-year partnership with state-owned Beijing Enterprises Real-Estate Group Ltd. to help grow the sport in China.
The partnership, announced this morning, will focus on expanding the number of baseball facilities in the world's most populous country. The aim is to build at least 20 development centers where Chinese students ages 7 to 12 can learn baseball skills alongside normal academic curriculum.
Extremely popular in nearby Japan and South Korea, baseball has been slow to gain traction in China. In 2015, the General Administration for Sport of China proposed a 10-year plan to develop baseball into a 50 billion yuan ($7.59 billion) industry with more than 20 million viewers (For comparison, the country has an estimated 300 million basketball fans).
As of now, more than 80 Chinese colleges and universities field baseball teams, up from less than 40 in 2012. MLB's three existing development centers in Wuxi, Nanjing and Changzhou have sent three players to MLB clubs.
The Los Angeles Dodgers and San Diego Padres played a series of preseason games in Beijing in 2008, and the leagues have continued to send players and coaches to China to promote the sport. Last year MLB signed its first national media partnership in the country, a three-year deal with Jack Ma-backed Le Sports.
Beijing Enterprises Real-Estate Group is a wholly-owned subsidiary of Beijing Enterprises Group Company Limited. The unit is also active in ongoing construction for the 2022 Winter Olympics in Beijing.
Before it's here, it's on the Bloomberg Terminal.
LEARN MORE