politics
May Still Faces Questions About Fired Ally's Behavior
By and
Tory activist says she reported allegations to senior aide

Green's ouster fuels speculation of imminent reshuffle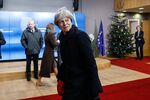 Two days after firing her closest political ally Damian Green, Theresa May remains under pressure over claims about his behavior.
When she forced Green to resign after an inquiry found he made misleading statements over pornography on his computer, May and her team expected a line to be drawn under the scandal.
Instead, a Conservative activist who claimed Green touched her knee and sent an inappropriate text message to her now says her warnings about his alleged behavior went unheeded by one of May's most senior aides. On a trip to visit British troops in Cyprus on Friday, May herself was forced to deny she knew of the claims, from the writer and Conservative supporter Kate Maltby.
"I first learned of these allegations when Kate Maltby wrote about them in the Times," May told a television crew at the Akrotiri air force base. "I recognize that Kate Maltby was extremely distressed by these allegations."
The sexual harassment scandal that hit U.K. politics in the wake of the Harvey Weinstein revelations in Hollywood has claimed the scalps of two of May's most senior Cabinet ministers in the past two months.
The loss of Green was a particular blow for May. A friend of hers since university, he led cross-government work on Brexit and was valued for his understanding of her political agenda and his effectiveness as a minister. 
Asked how she'll fill the post, amid speculation that Health Secretary Jeremy Hunt could be promoted, May said she'll take her time.
"This is not an issue that I'm going to be addressing before Christmas or over the Christmas period," May said. "Nobody should speculate about what might happen."
The threat of a cabinet overhaul could make the more rebellious of May's ministers sweat. There has been speculation that she is planning a major cull of senior figures to promote fresher faces from a younger generation of Tories.
At a time when the U.K.'s governing Tory party is split over Brexit policy, the threat of promotion or demotion could help keep some ministers in line.
Before it's here, it's on the Bloomberg Terminal.
LEARN MORE