Iran, Bentleys and Potato Chips May Mend U.K.-Russia Ties, Boris Johnson Says
By
Russia wants improved U.K. ties, Lavrov says at Moscow talks

First Moscow visit in five years by U.K. Foreign Secretary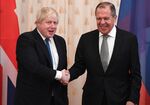 U.K. Foreign Secretary Boris Johnson told his Russian counterpart Sergei Lavrov that sales of potato chips and luxury cars offer evidence of progress in economic relations between the two countries, even as political ties "are not easy between us at the moment."
"I'm delighted to say that there are increasing exports of British kettle crisps to Russia and, in spite of all the difficulties, I believe 300 Bentleys were sold this year in Russia," Johnson told Lavrov on Friday during the first visit to Moscow by a U.K. Foreign Secretary in five years. "Not, I believe, necessarily to employees of the Foreign Ministry, but nonetheless a sign of progress."
While they disagree on issues including Ukraine, the Western Balkans, and "what's going on in cyberspace," the U.K. and Russia "must not let ourselves be defined by these problems," Johnson said. "We can find possibilities of cooperation on issues where I think we have substantial interests in common" including on the Iranian nuclear accord, the crisis over North Korea and the search for peace in Syria, he said.
Johnson is the first Foreign Secretary to visit Moscow since William Hague in 2012 after relations between the U.K. and Russia plunged into crisis following the poisoning in London of dissident Alexander Litvinenko in 2006. Relations strained further after Russia's annexation of Crimea in 2014, when the U.K. took a lead in the European Union's decision to impose sanctions, as well as over Kremlin support for Bashar al-Assad in the war in Syria.
'Russophile' Johnson
At a news conference after the talks, Johnson declared himself a "committed Russophile" while Lavrov said he "trusts Boris" and hoped the talks "will help to normalize our relations." They sparred openly, however, over alleged Russian interference in elections after Lavrov said his U.K. counterpart had declared there's no evidence Russia meddled in Britain's 2016 referendum on leaving the EU.
"Not successfully," Johnson retorted. Lavrov then told reporters that Johnson was trying not to spoil his reputation with the media at home.
"Sergei, it's your reputation I'm worried about," Johnson replied, adding that successful Russian interference "would have been an entirely different matter." Nobody had produced evidence Russia "interfered, though unsuccessfully," Lavrov responded.
There's "abundant evidence" Russia meddled in elections including in Germany, Denmark, France and in the U.S., though "I hope this page can be turned so that we can move on from this, and that any such efforts should be abandoned," Johnson said.
The meeting ended on a humorous note after Johnson said he'd handed over his coat, hat, gloves and "everything that was in my pockets" before the talks as a measure of his trust in Lavrov, in response to a question on whether he was concerned for his security in Russia.
"I want to say that there was nothing in the pockets of Boris's coat," Lavrov said.
Before it's here, it's on the Bloomberg Terminal.
LEARN MORE