Wind generation to peak at record levels over holiday season

Frequency of negative prices to increase as renewables grow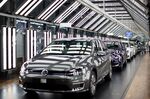 After a cold snap roiled Europe's energy markets earlier this month, mild weather and a surge in wind power just in time for Christmas will probably bring free electricity to some consumers in Europe's biggest economy.
As thousands of Mittelstand factories from Berlin to Bremen close or pare back output during the festive season, maximum power use in Germany is poised to slump by more than a quarter between Thursday and Christmas Day. With forecasts of near-record wind-power output and temperatures as much as 6 degrees Celsius (10.8 Fahrenheit) above normal, prices for some hours on Saturday have already settled below zero.
Negative prices are a quirk in power markets, brought on by the need to account for supply surges as the unprecedented renewable energy revolution made solar and wind the second biggest source of electricity. To keep the grid in balance, they encourage producers to either shut stations or else pay consumers to take extra supply off the network.
While it's the ninth time in 10 years that prices will be negative over the Christmas break, it's becoming more than a holiday issue as an increasing amount of intermittent solar and wind generation is creating bottlenecks in the grid, which must be balanced at any cost.
"It's just a foretaste of what we will see during the next couple of years with higher peaks and lower bottom prices," said Arne Osterlind, a power portfolio manager at Shepherd Energy AB, in Stockholm. "If I could I would buy and store power over Christmas and sell a week later."
Germany has had 104 hours of negative prices this year and four whole days with an average below zero. That compares with 97 hours and the same amount of days last year on the Epex Spot SE exchange in Paris. Contracts over the Christmas season are already trading as low as minus 14 euros ($17) per megawatt-hour via brokers.
Christmas Eve looks like the most oversupplied day, according to Statkraft Markets GmbH, the Dusseldorf-based trading unit of Norway's biggest supplier. The company has a 24-hour team on deck gearing up for negative prices, said Malte Schwoon, vice president of physical market operations. It can be a demanding time as a trader, he said.
Winter is a challenging time is for electricity network operators and often requires intervention to reduce power production. Balancing the German grid cost as much as 800 million euros ($950 million) last year, according to Tennet TSO GmbH, one of four main network managers in the market.
The increasing volatility in near-term power prices open up for new technologies and may also bring some mothballed gas-fired plants back online, according to Elchin Mammadov, an analyst at Bloomberg Intelligence in London.
"This should give impetus to build more battery projects but should also help de-mothball a few more gas-fired power plants given their fast ramp-up rates," he said.
Before it's here, it's on the Bloomberg Terminal.
LEARN MORE