BofA Says Tax Act Forces $3 Billion Fourth-Quarter Earnings Cut
By
Net deferred tax assets lose value with new law, bank says

Citigroup has also said it expects a charge tied to change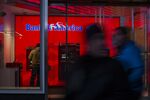 Bank of America Corp. expects to take a roughly $3 billion hit to fourth-quarter net income after the U.S. tax bill slashed corporate rates.
The reduction is "primarily" from a lower value of net deferred tax assets, according to a filing Friday by the Charlotte, North Carolina-based firm. So-called DTAs pile up in cases where a company loses money and can't immediately enjoy the tax benefits of those losses.
The legislation signed into law on Friday by President Donald Trump slashes the corporate rate to 21 percent from 35 percent, meaning many firms will be forced to write down tax assets accumulated at higher rates. The Republican-drafted law also delivers a package of temporary cuts for businesses and most individuals.
Bank of America "will continue to analyze the Tax Act to determine the full effects of the new law, including the new lower corporate tax rate," the company said in the filing. The bank is scheduled to report earnings on Jan. 17.
Citigroup Inc. said earlier this month that it may take a noncash charge of $20 billion for the fourth quarter, depending on the final version of the legislation. The bank hasn't updated that figure.
Before it's here, it's on the Bloomberg Terminal.
LEARN MORE