Theresa May Eyes 2022 Vote After Surviving a Tumultuous Year
By
Theresa May defends record and looks to lead U.K. past Brexit

A year of lost cabinet ministers, terror and glacial talks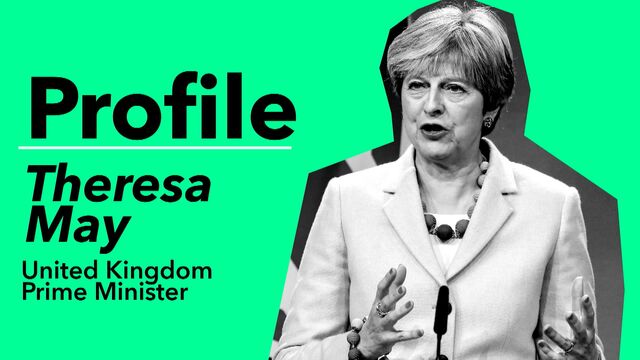 U.K. Prime Minister Theresa May refused to rule out running for another term in 2022 as she shrugged off suggestions that 2017 has been the worst year of her political career.
May lost her Conservative Party's majority after calling a snap general election in June and has seen three cabinet ministers forced out of office. Britain also experienced a series of terror attacks in the past year and struggled to make headway in divorce negotiations with the European Union.
But she intends to fight on.
"I'm in it for the long term," May said when asked if she will lead her party into the next general election, scheduled for 2022. "I'm here to do the job I believe needs to be done for the British people and that's what I'm going to focus on."
Speaking to reporters on her plane as it flew between Poland and Cyprus on her last foreign trip of the year, the prime minister said her government made significant advances in domestic policy in the last quarter and pledged to continue to prepare Britain for its future outside the EU.
Read a QuickTake Q&A on why Britain has to pay for Brexit
May, who laughed on Thursday when a Polish translator at her press conference with Prime Minister Mateusz Morawiecki mistakenly referred to her as "Madam Brexit," said she doesn't want her legacy to be simply taking Britain out of the EU. The issue has dominated the attention of officials and ministers since Britain voted to leave the last year.
"I smiled when I heard the translation of Madam Brexit," May said. "I'm going to deliver on Brexit, that's undoubtedly the case, but I'm doing other things as well, if you look at the changes we're making on skills, education and training for example, the industrial strategy and global Britain."
Measures in Chancellor of the Exchequer Philip Hammond's budget to support housing and healthcare point to her desire to "build a Britain that's fit for the future," she said.
The other 27 leaders in the EU agreed this month that "sufficient progress" had been made to allow Brexit talks to proceed to the second stage after months of stalemate and glacial movement. Negotiations over the future trading relationship between Britain and the EU are due to start in March -- and they don't promise to be any easier.
'Phase Two' of Brexit
EU chief negotiator Michel Barnier said on Monday that it would be impossible to achieve the bespoke deal that Britain wants after Brexit because May has opted out of the single market for goods and services. May said she hopes, though, that supportive comments by the Italian and Polish prime ministers about a "tailor made" deal reflect a shift among EU leaders.
"It will be an important year in phase two of the Brexit negotiations but I'm optimistic about those," May said. "What we want to achieve in terms of the future partnership with the EU is in the interests of the other 27 as well as in ours."
May, who plans to go to China early in 2018, said she will continue to travel to promote British trade, using defense and security cooperation as a lever to help foster closer ties.
Before it's here, it's on the Bloomberg Terminal.
LEARN MORE