Venezuela's Oil Giant Is Struggling in the Caribbean
By and
Company risks losing close to 16% of its refining capacity

PDVSA owes about $14 billion to bondholders in 2018-2020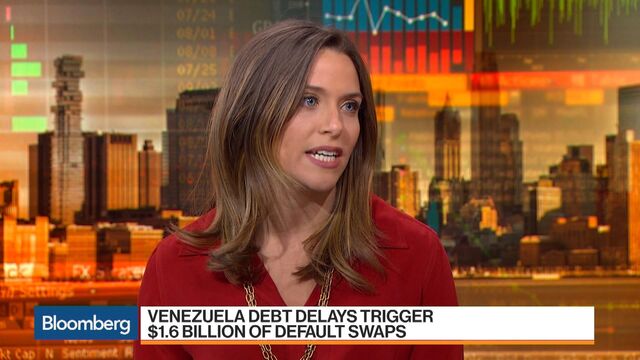 The misfortunes of Venezuela's state-owned oil company are now roiling the clear waters of the Caribbean Sea.
Once the region's driving force, Petroleos de Venezuela SA, or PDVSA, as it's known, faces the prospect of losing its footprint in the Caribbean over unpaid bills and the inability to deliver on its promise to supply cheap crude oil and fuel to its partners in the PetroCaribe program. The beleaguered state-owned oil giant has seen its executive ranks decimated as the authoritarian Maduro regime imprisons executives and installs military officers in their place.
PDVSA lost a stake in a Cuban refinery and a storage-tank lease in the Bahamas in the past year. Now it faces losing shares in refineries from Jamaica to Curacao, and storage tanks from St. Eustatius to Bonaire. That's a turnaround from a decade ago, when PDVSA picked up assets and friends across the region ahead of a planned boost to its production that never happened.

Plagued by a heavy debt load and crippled by U.S. sanctions, Venezuela has seen its oil output slump to below 2 million barrels daily from more than 3 million barrels in 2013, leaving behind a trail of underutilized refineries, broken promises, unpaid bills and overdue facilities maintenance.
Recent events seem to indicate PDVSA will "involuntarily" exit the Caribbean, said Mara Roberts Duque, a New York-based analyst at BMI Research.
"If they are not able to keep these Caribbean assets in good condition, they will have major implications down the supply chain," as the assets complement those in Venezuela, Duque said by phone. "They can't do it with their domestic assets. They also need facilities in the Caribbean to supplement their domestic output of refined products."
The hodgepodge of terminals serve as a platform to both store and ship crude oil and products, which account for more than 95 percent of Venezuela's total exports. The storage tanks in Bonaire can hold as much as 10 million barrels and are used mainly to handle fuel oil cargoes bound to China and Singapore. The PDVSA refineries in the Caribbean make up 16 percent of the company's global oil processing capacity, according to data compiled by Bloomberg.
PetroCaribe
PDVSA rolled out its oil diplomacy accord, known as PetroCaribe, in 2005 under the guidance of the late president of Venezuela, Hugo Chavez, financed by oil prices near $100 a barrel. As crude production by one of OPEC's founding members falls and debt mounts, it makes sense to downsize, said Kurt Barrow, an analyst at IHS Markit.
"They can't afford to maintain facilities and they need every dollar or bolivar to make bond payments and finance their government," Barrow said by phone from Houston. "They are struggling to maintain in any sort of fashion their domestic oil and gas infrastructure."
And even as Venezuela is set to pump the least oil in three decades as drilling companies retreat amid unpaid bills and widespread complaints over poor oil quality, PDVSA also grapples with the arrests of at least 65 officials at the company and its U.S. refining unit Citgo Petroleum Corp. President Nicolas Maduro has said the detentions are meant to curb corruption, but critics have said it represents a power struggle in the ruling socialist party.
Among those held were Nelson Martinez and Eulogio del Pino, who over the years alternated as PDVSA's president and oil minister. Maduro appointed Manuel Quevedo to run the company. The major general, who has no oil-industry experience, is charged with ramping up production in the country with the world's largest oil reserves. The commodity is a mainstay of the economy in Venezuela, and collapsing prices have led to widespread social unrest and even starvation.
The appointment of unproved managers puts more strain on PDVSA's ability to make its heavy schedule of bond payments in coming years. The cash-strapped company, which struggles to sell its oil to the U.S. because of sanctions imposed by President Donald Trump, owes bondholders about $14 billion by 2020. China, which came to the rescue repeatedly in past years, has shown signs of impatience after China Petroleum & Chemical Corp., known as Sinopec, sued PDVSA in U.S. courts.
Rosarys Ysturiz, a spokeswoman for PDVSA, didn't immediately return a call and email seeking comment.
The "insurmountable" wall of debt due in the next seven years will eventually force a hard default on Venezuela, Thomas Onley, an analyst with Facts Global Energy, said. If China and Russia relax terms on the oil-for-cash agreements to allow the Latin American country to postpone loan payments and sell oil for hard currency, it could help Venezuela to buy more time.
"Voluntarily or involuntarily getting rid of assets in the Caribbean won't solve their problems," Onley said by phone from London. "There are many things that need to happen, and one of them is, oil needs to reach $80 before things start looking good for them."
— With assistance by Ezra Fieser, Fabiola Zerpa, Hannah Dormido, and Hayley Warren
Before it's here, it's on the Bloomberg Terminal.
LEARN MORE