Business
Movie Theaters Were Already in Trouble. With Disney's Fox Deal, It's Double
Not only would Disney gain leverage with chains such as AMC, it would also pick up more films to distribute exclusively on its upcoming online service.
By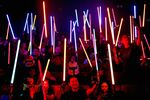 America's movie theaters were jammed in December for the screening of Star Wars: The Last Jedi, a story about the Resistance battling the evil First Order. But with the announcement in December that Walt Disney Co. will acquire much of 21st Century Fox Inc.'s entertainment businesses, theater owners may feel like they're the Resistance.
Disney's acquisition of Fox's film studio will unite some of the most lucrative movie franchises, from Disney's Star Wars and Marvel series to Fox's X-Men and Avatar. With control of more blockbusters, not only does Disney gain more leverage over theater chains such as AMC Entertainment Holdings Inc. and Carmike Cinemas Inc., it also wins more films it could distribute exclusively on its upcoming online service—cutting out cinema operators entirely. "Disney is becoming the Wal-Mart of Hollywood: huge and dominant," says Barton Crockett, a media analyst at B. Riley FBR. "That's going to have a big influence up and down the supply chain."
Disney expects the $52.4 billion deal, which includes Fox's cable channels and international assets, to be completed in 12 to 18 months if regulators approve it. That's a big if, given that the government recently sued to block the enormous media deal between AT&T Inc. and Time Warner Inc., home of the Warner Bros. studio. Together, Disney and Fox accounted for 40 percent of ticket sales in 2016 in the U.S. and Canada, a level of market concentration that could draw scrutiny from Washington.
If the deal goes through, theater owners could get squeezed. Usually a film's box-office revenue is split evenly between exhibitors and the studio. But Disney previously has gotten theaters to hand over a larger share—sometimes more than 60 percent—on its biggest, most popular films, such as the Star Wars series. Now it could try the same tactic with Fox's Avatar, which has four sequels in the works. "While the future of movie exhibition looks increasingly dim, a Disney-Fox merger will elevate its level of pain," says Rich Greenfield, an analyst at BTIG LLC.
Cinema chains have already suffered this year from a string of box-office bombs, including Warner Bros.' King Arthur: Legend of the Sword, and online video services such as Netflix Inc. are keeping more moviegoers at home. Studios also are considering ways to get film releases onto video sooner, putting more pressure on theater owners. All that has led to consolidation in the industry, with Britain's Cineworld Group Plc agreeing to buy Regal Entertainment Group for $3.6 billion in December.
Unlike Fox and other big studios, Disney hasn't pushed to shorten the time movies are shown in theaters before reaching home video. So shifting Fox's movie slate to Disney, which prefers long theatrical runs, "could be a positive for theaters," says Leo Kulp, an analyst at RBC Capital Markets LLC. Yet Disney still presents exhibitors with a big potential worry: its plan to launch an online service in 2019 with Pixar and Marvel flicks. "Disney may push Fox's films to its direct-to-consumer platform," Kulp says, "and bypass the theaters altogether."
BOTTOM LINE -
Movie studios have long split revenues with theater operators 50-50. But a marriage between Disney and Fox could give the combined entity the clout to grab a bigger share.
Before it's here, it's on the Bloomberg Terminal.
LEARN MORE