Your Evening Briefing
Here are today's top stories
By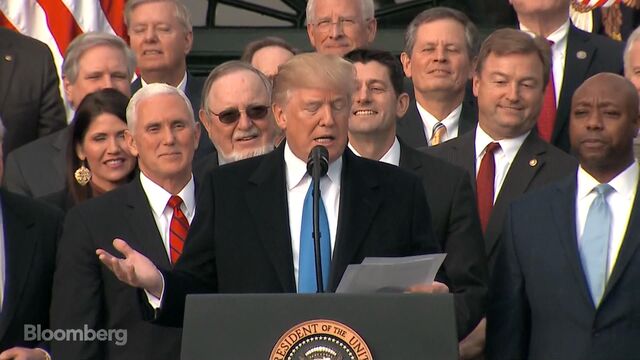 Want to receive this post in your inbox every afternoon? Sign up here.
The tax overhaul Congress passed Wednesday will hand President Donald Trump his first real legislative accomplishment, but it won't help him shrink the trade deficit. It will help billionaires, but it won't help the conventionally rich on Wall Street. It will repeal Obamacare's individual mandate, but it won't repeal the law itself, despite Trump's claim to the contrary. It will certainly star in a lot of Democrats' 2018 campaign ads. —Sam Schulz
How the tax bill will affect eight American families. How exactly will the tax overhaul affect you? Depends where you live, what you do, and how big your family is. Your taxes are more likely to go up next year if you live in a high-tax state or lean heavily on deductions that will be eliminated. A look at eight hypothetical families shows whose taxes will go up next year, whose will go down, whose will change almost imperceptibly. (And while most Americans will get a tax cut next year, in a decade most will be paying more than they are now.)
The House backs off its clown-car approach to a spending bill. Their tax bill done, congressional leaders were trying to cram unfinished business into their year-end spending bill. (Defense funds? Throw 'em in. Health insurance for kids? We'll see.) But now, with the prospects of a deal fading, House Republicans are eyeing a stripped-down, temporary funding measure. So much for those Obamacare votes Sen. Susan Collins had insisted happen this year. Meanwhile, senators say they're nearing a deal to protect young immigrants from deportation.
The days of using your friend's mom's password to watch TV are numbered. Cable companies, led by Charter Communications, are launching an effort to crack down on the widespread practice, which could cost them millions of subscribers and billions in revenue when they can least afford it. Just how widespread is it? When ESPN asked 50 millennials how many of them shared passwords, every single one raised a hand, an executive told Bloomberg.
A cryptocurrency founder cashes in. Charlie Lee, the creator of the world's fifth-biggest cryptocurrency, cashed in during a 75-fold rally. Lee said in a Reddit post that he'd sold and donated all his litecoin holdings to prevent a "conflict of interest" when he makes comments on social media that could influence its price. He noted that his move "did not crash the market" and told Bloomberg he thinks it will benefit litecoin long-term.
Developers, rejoice: In the future, the same apps could work on both iPhones and MacBooks. Soon Apple software developers will be able to design a single app that works with either a touchscreen or a mouse, depending on what operating system it's running on, according to people familiar with the matter. Developers currently must design separate apps for iOS and macOS, and users have long complained that some Mac apps get short shrift.
AT&T is celebrating the tax bill with $1,000 bonuses for more than 200,000 workers. The legislation, of which the company has been a vocal supporter, would let phone carriers take immediate tax deductions for network upgrades. Meanwhile, AT&T is locked in a legal battle with the Trump administration's Justice Department, which has sued to block the company's $85.4 billion acquisition of Time Warner Inc.
Top brewers recommend the 12 best seasonal beers for winter. Forget eggnog. With all that gingerbread and chateaubriand, doesn't a beer sound nicer? Here is what some of the country's top craft brewers will be drinking by the fire and during their own holiday festivities.
Before it's here, it's on the Bloomberg Terminal.
LEARN MORE