politics
Ugandan Lawmakers Move Closer to Removing Presidential Age Limit
By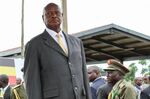 Uganda's ruling party secured more than the two-thirds majority that's required to amend the constitution, paving the way for a final parliamentary vote on lifting presidential age limits.
The change, when made, will eliminate the 75-year age ceiling that previously blocked incumbent Yoweri Museveni, 73, from vying for a sixth elected term in 2021.  He has been in power for almost 32 years and only Teodoro Obiang Nguema of Equatorial Guinea, Paul Biya of Cameroon and Denis Sassou Nguesso of the Republic of Congo have led their nations for longer.
Some 317 lawmakers voted to open debate on amending the constitution, while 97 were against it and two abstained, parliament said on its Twitter account.
The debate on the constitutional change was marked by several brawls by lawmakers this week and in September, in which the government deployed military officers in parliament to quell the fighting. The opposition says changing the charter creates a life presidency for Museveni.
Before it's here, it's on the Bloomberg Terminal.
LEARN MORE