Banxico's New Governor Defends His Strict Stance on Rates
By
Rate gap a great tool, but no direct link to Fed: Diaz de Leon

Inflation has more than doubled 3% target and may rise further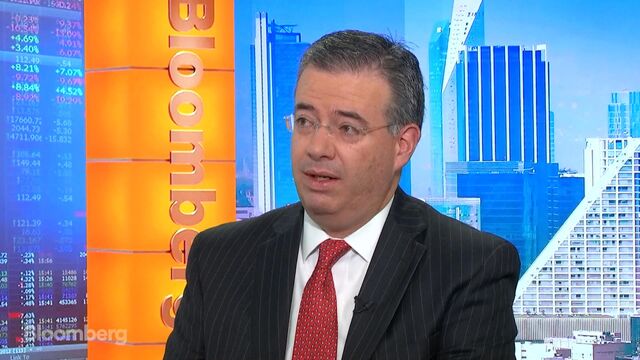 Mexico's central bank Governor Alejandro Diaz de Leon reinforced the bank's tight monetary policy stance, saying there was far too much uncertainty over U.S. trade talks and persistently high inflation to change course now.
While acknowledging the impact high interest rates have on already sluggish economic growth, the central bank sees an even larger cost if it doesn't anchor inflation expectations, Diaz de Leon told Bloomberg TV. He led the board for the first time last week, when it voted for a quarter-point rate increase.
"As soon as those risk factors abate, maybe we can have a different trend on the exchange rate," Diaz de Leon said. "But that's why we have been of the view that it has been very important to have a tight monetary stance in order to have an orderly adjustment of the economy in these very uncertain circumstances."
Inflation has held at more than double the 3 percent targeted rate for seven consecutive months, despite the weak economy. At the same time, presidential elections in July and trade talks with the U.S. are expected to stoke peso volatility next year, complicating monetary policy still further.
Economists now predict the inflation rate won't fall within the 2 percent to 4 percent target range by the end of 2018 as Banxico had forecast. According to a Citibanamex survey released Tuesday, analysts see the rate at 4.05 percent next year and expect another quarter-point rate hike in February, up from the current 7.25 percent.

The peso pared earlier losses after Diaz de Leon's comments and was little changed at 19.2092 to the dollar in late morning trading in Mexico City.
While Diaz de Leon doubled down on his restrictive monetary stance, he said that doesn't ensure a rate increase at the next meeting in February. "With such a changing environment and with shocks that we've seen that could appear in inflation and currency market, I think it's important to study the information as it comes," he said.
Diaz de Leon took over at the central bank earlier this month, replacing Agustin Carstens, who left to head the Bank for International Settlements.
The board voted 3-to-1 to raise the key rate a quarter point in December, with the dissenting member seeking a higher 50 basis-point increase. In the statement accompanying its decision, Banxico said the outlook for inflation had deteriorated and that it will probably accelerate this month from November's high of 6.63 percent. It also said that due to increased risks the board would be ready to take action if needed.
Some market participants have criticized the tone of last week's central bank statement. Gerardo Rodriguez, a BlackRock Inc. money manager and former Mexican deputy finance minister, said Banxico should decouple from U.S. rate hikes, one of which took place before Mexico's.
"It's urgent that Banxico find an exit to this very restrictive narrative that the board of governors has created," Rodriguez wrote on his twitter account. "If not, monetary conditions will remain disproportionately tight, generating an enormous economic cost to the country."
Banxico recognizes the importance of using Mexico's interest rate differential with the U.S. to create order in the currency market, but that doesn't mean it will follow the Federal Reserve in each move next year, Diaz de Leon said. "We have never tried to hint that we will link in any direct way. It's an additional element that we have to consider," he said.
The economy contracted in the third quarter from the previous three months amid damage from earthquakes and hurricanes. The peso has weakened in the second half of the year the most among major currencies tracked by Bloomberg after negotiations to rework the North American Free Trade Agreement hit obstacles and U.S. President Donald Trump repeated threats to scrap the deal.
Before it's here, it's on the Bloomberg Terminal.
LEARN MORE