Spanish Bond Traders Should Keep Cava Corked Before Catalan Vote
By
Catalan elections Thursday could move bonds in thin trading

ECB closes its asset-purchase program for the year on same day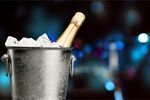 Spanish bond investors may need to hold off on the Christmas party until after voters in the errant Catalonia region go to the polls on Thursday.
The final election surveys indicate that parties pushing for a breakaway from Spain will gain a slender majority, while thin year-end trading and the European Central Bank ending its asset-purchase program for the year on the same day could exacerbate a negative market impact, according to Commerzbank AG. Longer-term, strategists still see further gains for the bonds.

"The ECB's backstop is not there any more, and modest unwinds in thin markets could cause adverse price action," said Christoph Rieger, a strategist at Commerzbank. "The best idea could be to either reduce risk into year-end, looking to scale back into the new supply next year -- or simply to close the books for Christmas."
Spanish government securities have emerged largely unscathed from the political turmoil that surrounded Catalonia's illegal referendum on Oct. 1. Yields on 10-year bonds are at 1.47 percent, more than 30 basis points lower than the 1.81 percent hit following the vote. They have returned 2 percent to investors this year, compared to minus 0.4 percent for equivalent German debt.
Even if pro-independence parties emerge with a majority late on Thursday, they may still struggle to iron out their differences to form a government before a February deadline. There is also little expectation that the national government in Madrid will back down from its hard line stance, limiting any further bond declines in the new year.
'Small Rally'
Should the election results unfurl as expected, Rabobank International sees the country's bond spread over Germany narrowing toward 100 basis points, from about 110 currently, as independence is kicked down the road. The focus will also be on any sovereign ratings upgrades in the new year, which could see the nation achieve a single-A ranking, widening the pool of possible investors, according to Societe Generale SA.
"It still seems reasonably likely that 2018 will see some move by the Spanish government to try and deal with some of the grievances raised by Catalonia," Rabobank strategists led by Richard McGuire wrote in a note to clients. "This result seems likely to see a small rally for Spain as more immediate concerns about the future structure of Spain can move to the back burner."
— With assistance by Todd White
Before it's here, it's on the Bloomberg Terminal.
LEARN MORE