South Africa ANC Decides That Central Bank Must Be State-Owned
By and
Proposal was made at party's policy conference in July

Reserve Bank one of a small group globally with private owners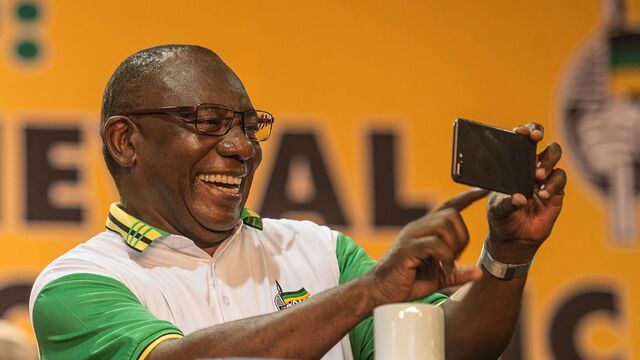 South Africa's ruling party has ratified a proposal for the state rather than private shareholders to own the central bank.
Delegates at the African National Congress's elective conference in Johannesburg decided that the government should own 100 percent of the Reserve Bank, Enoch Godongwana, the head of the party's economic transformation committee, told reporters in Johannesburg on Wednesday. The conference didn't discuss changes to the central bank's mandate, he said.

The Reserve Bank's investors have no say over its policy or the appointment of the governor, but do vote to select seven of the 10 non-executive directors. It's one of a small coterie of global counterparts from Japan to Switzerland that has private shareholders, a legacy of its foundation in 1921.
The proposal, made at the party's policy conference in July, came two weeks after the nation's anti-graft ombudsman said the Reserve Bank's inflation-targeting mandate should be changed. While the High Court has set aside that suggestion, the ANC proceeded with the plan to change the regulator's ownership structure.
"The process of changing the ownership structure of the SARB at this point in time could raise the level of risk and uncertainty for the country in both a financial and economic policy sense," the central bank said in a statement on its website Thursday. "This heightened exposure to risk is unwarranted given the country's fragile economic situation."
The ANC now will have to ask parliament to change the South African Reserve Bank Act. The party holds more than 60 percent of the seats in the legislature.
Mandate Fight
After fighting the anti-graft ombudsman's mandate-change proposal, Reserve Bank Governor Lesetja Kganyago said the central bank would only oppose ownership changes if its independence is threatened.

The Reserve Bank has 2 million issued shares that are bought and sold on an over-the-counter trading and transfer facility after it delisted from the Johannesburg Stock Exchange in 2002. In the six months through Dec. 19, the central bank's stock traded for a little as 3 rand ($0.23) and as much as 12 rand, the lender said on its website.
Nationalizing the bank "would also be expensive as its shares currently trade for much less than the price at which some existing shareholders are willing to sell their shares," the Reserve Bank said. "The 'buying-out' of existing shareholders will therefore result in paying large sums of money to effect cosmetic changes that will have no bearing on the manner in which the SARB carries out its mandate or executes its policy responsibilities."
There is no set timeline for the nationalization of the central bank, Godongwana said.
"We said we would buy it when we have money without benefiting the speculators," he said.
Before it's here, it's on the Bloomberg Terminal.
LEARN MORE