Peru's Two Vice Presidents Await President's Impeachment Vote
By
Martin Vizcarra is next in line if Kuczynski is forced out

Country may have a change of leader as early as Friday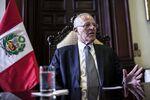 Peru's Congress on Thursday will vote on whether to oust President Pedro Pablo Kuczynski after opposition lawmakers accused him of concealing dealings with Odebrecht SA, the disgraced Brazilian builder at the center of a continent-wide corruption investigation.
The 79-year-old Wall Street veteran and former finance minister faces allegations growing out of the so-called Carwash probe, which began in Brazil in 2014 and has led to arrest of several businessmen and lawmakers. The opposition-controlled Congress will hear Kuczynski's side and then decide his fate.
If ousted, Kuczynski would become the highest profile casualty and the first sitting president in the region to loose his mandate in the aftermath of the Odebrecht scandal. The full scope of the fallout has rattled governments -- and even economies -- from the Andes to the Caribbean. Critics have likened the pell-mell process to a coup, and it threatens a booming economy.
The president's opponents last week presented documents that show Odebrecht paid almost $800,000 in advisory fees to an investment banking firm, Westfield Capital Ltd., that Kuczynski owns. Some took place while he was finance minister more than a decade ago.
Peru's constitution says Kuczynski would be replaced by one of two vice presidents should he lose the vote on Thursday. Should they both decline, Congress speaker Luis Galarreta can call a general election. Here are the two people in line to succeed the man known as PPK:
Martin Vizcarra
First Vice President Martin Vizcarra, 54, is Peru's ambassador to Canada. A civil engineer-turned-politician, Vizcarra joined Kuczynski's campaign as an adviser in 2015 after a four-year term as governor of the Moquegua region in south Peru.

He was appointed transport and communications minister as Kuczynski took office in July last year and was assigned to expedite infrastructure projects. He resigned in May under pressure from lawmakers who accused him of corruption and said the contract for a new airport in Cuzco he negotiated was too favorable for the private operator. Kuczynski dispatched him to Ottawa months later.
Vizcarra headed operations at a construction company for almost two decades before entering politics in 2010.
He is credited with raising education standards in Moquegua's schools to among the nation's highest, and last year he led the current government's effort to persuade farmers to end a road blockade against against the Las Bambas mine.
He has a civil engineering degree from the Universidad Nacional de Ingenieria and a diploma in management from the Esan business school, both in Lima. Local media reported Vizcarra returned to Peru from Canada on Wednesday.
Mercedes Araoz
Second Vice President Mercedes Araoz, 56, would lead the country should Vizcarra decline. A lawmaker who belongs to Kuczynski's Peruvians for Change party, Araoz was appointed cabinet chief in September after her predecessor lost a vote of confidence in Congress.

During the government of Alan Garcia between 2006 and 2011, she was trade and tourism minister, production minister and then finance minister, becoming the first woman to hold the position. She was credited with helping Peru achieve free trade agreements with the U.S., Canada and Singapore.
She was a candidate in the 2011 presidential election, but pulled out amid low polling. She went on to serve as a representative to the Inter-American Development Bank in Mexico from 2012 to 2015.
In an interview with Lima-based El Comercio in September, she described herself as liberal on economic as well as social issues. Araoz performed in a rock band at university and as finance minister once sang before the public at a New Years Eve party outside the presidential palace.
Araoz has a bachelor's degree in economics from the University del Pacifico in Lima and a masters and doctorate in economics from the University of Miami.
Vizcarra returned to Lima Wednesday and held talks with Kuczynski. He told reporters he came to listen to the president and called for calm and reason. Araoz said via Twitter the cabinet continues working to advance Kuczynski's so-called "social revolution."
Before it's here, it's on the Bloomberg Terminal.
LEARN MORE