In Recovering Portugal, Family-Owned Stocks Give Best Returns
By
Six of the seven top PSI20 performers are partly family-owned

Stocks benefiting from higher economic growth, better ratings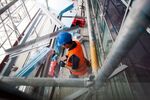 When it comes to betting on Portugal's fragile recovery, family ties are key.
A glance at the benchmark PSI 20 Index, which is having its best year relative to the Stoxx Europe 600 since 2007, reveals that six of the top seven performers are companies partly controlled by a founder or heirs. Biggest gainer Mota-Engil SGPS SA, whose chairman Antonio Mota is the son of the 71-year-old builder's founder, has more than doubled in value since December's close. 
"As the risk of investing in Portugal diminishes, the smaller, family-owned companies have become magnets for investors," said Invest Iberia fund manager Paulo Monteiro, who oversees about 35 million euros ($41 million) in stocks and bonds in Portugal and Spain. "Family-owned companies offer an advantage: they often have a long-term business orientation."

A surge in tourism and exports and a revival of the construction sector is rekindling Portugal's economic recovery, bolstering shares in companies including pulp producer Altri SGPS SA, whose chairman and founder Paulo Fernandes holds a 12 percent stake. Others to get a boost include The Navigator Company and its parent company Semapa-Sociedade de Investimento Gestao SGPS SA, majority-held by the Queiroz Pereira family.
Changed Hands
All three stocks have climbed more than 30 percent since the start of the year. Cork producer Corticeira Amorim SGPS SA, majority-owned by the Amorim family, and retailer Sonae SGPS SA, controlled by the Azevedo family, also outperformed the 18-member index, which rose 16 percent. 
An average 92.5 million euros worth of shares changed hands daily on the PSI 20 this year, about 9 percent more than the daily average in 2016, according to data compiled by Bloomberg.
The Bank of Portugal on Dec. 15 raised its 2017 economic growth forecast for the country to 2.6 percent, the fastest rate in 17 years. Ratings agencies are also taking an increasingly positive view. Fitch Ratings on Dec. 15 followed S&P Global Ratings in shedding its junk-bond status for Portugal for the first time since 2011.
While Moody's Investors Service has maintained its junk debt rating for the Iberian nation ever since the country requested a 78 billion-euro bailout in 2011, it now has a positive outlook for the nation. Portugal completed its bailout program in 2014.
Family businesses account for 50 percent of Portugal's gross domestic product, about 60 percent of jobs, and 70 percent to 80 percent of all companies, according to the Portuguese Family Business Association's website. About half of the PSI 20 companies have a founder or a family as a major shareholder, according to data compiled by Bloomberg.
"As investors take a closer look at Portugal, they are finding some investment opportunities in small and medium-sized companies in the PSI 20 index," said Joao Queiroz, a trader at Banco Carregosa's GoBulling unit in Lisbon. "Many of these companies happen to be family-owned, which shows there is a commitment from the founders of the company in the business and is a good selling point to investors."
— With assistance by Sofia Horta E Costa, and Paul Jarvis
Before it's here, it's on the Bloomberg Terminal.
LEARN MORE