Why Germany's Powerful Finance Post Is Back in Play
By and
Schaeuble's old ministry is key platform to mold euro area

Schulz needs something 'big and juicy' to show SPD: Kirkegaard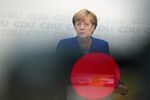 Chancellor Angela Merkel may have to offer the Social Democrats an especially tempting carrot if she is to persuade them to join her in government for a third time: Germany's powerful finance portfolio.
With government talks due to resume on Wednesday, SPD members still need convincing that it's in the party's interest to enter another "grand coalition." Cue a report in Monday's edition of Handelsblatt that SPD leader Martin Schulz told a closed meeting of party officials he'll lay claim to the Finance Ministry in talks with Merkel. 

The power play could help sway reluctant SPD members to back a return to government while also offering a platform from which to push the European Union reforms that are a party priority, according to SPD lawmaker Ingrid Arndt-Brauer. The ministry formerly occupied by Wolfgang Schaeuble is a "trophy" for the party and it was a mistake not to demand it before joining Merkel's previous government, she said.

"It's very good that Martin Schulz is now claiming the ministry," Arndt-Brauer said by phone, adding that party members had requested the move of Schulz. "The ministry is of key importance to get our party political platform implemented," she said.
Three months after Merkel emerged from German elections victorious but reliant on other parties to form a government, the chancellor is impatient to reach an agreement with the SPD that secures her fourth term. After the collapse of her first attempt to forge a coalition, the shape of policies and distribution of ministries are all back in play.
First in Line
While Schulz has yet to make any public claim on the finance ministry, he's made clear that he wants to grasp the opportunity offered by French President Emmanuel Macron to deepen ties between EU nations and expand the bloc's powers.
"If the SPD takes their claim to shape European policy seriously, they have to take the Finance Ministry," Carsten Brzeski, chief economist at ING-Diba, said by phone. Schulz, as party chairman, "is the first in line for the post," he said. 
The SPD wants the finance portfolio because it needs a "counterweight" to Merkel's power as chancellor, according to SPD lawmaker Lothar Binding. Another candidate for the post could be Sigmar Gabriel, Schulz's predecessor as SPD leader who is currently serving as foreign minister.
It's still by no means a given that Merkel will comply. She already sent a signal of intention to hold on to the post when she appointed Peter Altmaier, her chief of staff and close aide, as acting finance minister. A commited pro-European, he would surely follow Merkel's lead in meeting Macron's EU challenge.
'Big and Juicy'

Horst Seehofer, who leads the Bavarian sister-party of Merkel's Christian Democratic Union, would present a less friendly face for France. Since announcing his decision this month to stand down from his post as Bavarian prime minister, he has been linked in German media to a move to Berlin and the finance post.
The Social Democrats are planning a special party convention on Jan. 21 where members would vote on whether to begin formal coalition talks. Schulz initially rejected another coalition with Merkel after leading the SPD to its worst postwar election result, and many rank and file members would still prefer to rebuild the party's reputation in opposition.
"Schulz is making a huge turnaround" and to do so "he needs a signal that this will be a coalition of equals," Jacob Kirkegaard, senior fellow at the Peterson Institute for International Economics in Washington, said by phone.
That "something big and juicy" could be finance, especially "if Schulz is serious about EU reforms," Kirkegaard said. "In the end, this is a camel Merkel might have to swallow."
— With assistance by Patricia Suzara
Before it's here, it's on the Bloomberg Terminal.
LEARN MORE