politics
French Prime Minister Defends 350,000-Euro Flight From Tokyo
By
New Caledonia trip's cost draws criticism in French media

Philippe and his entourage took a business-class only plane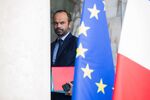 French Prime Minister Edouard Philippe defended his decision to spend 350,000 euros ($410,000) to hire a private plane to fly him and his delegation home from a work trip to the Pacific, even though a government plane was available.
Philippe flew to the French overseas territory of New Caledonia on a commercial flight in early December, and started the trip home on a French Air Force Airbus A340 that had carried most of his delegation on the way out. But during a refueling stop in Tokyo, Philippe and his 60-person entourage left the government plane and continued to Paris on a rented A340 with only business class seats.
The prime minister and his team arrived back in France two hours before the governmental A340, which flew back almost empty, AFP reported.
Transporting a prime minister "is complicated and it's expensive," Philippe said Wednesday on RTL radio. "I made a decision and I defend it." He also said the overall cost of the trip was "clearly" lower than a trip to New Caledonia by Manuel Valls when he was prime minister, though he provided no figures.
While the popularity of President Emmanuel Macron has recovered in recent months, polls also show the majority of the French think his policies favor wealthier French after he scaled back a wealth tax and cut spending on housing and job subsidies.
After the weekly cabinet meeting, government spokesman Benjamin Griveaux said that the total cost of the trip was 30 percent less than a similar one made by Philippe's predecessor Manuel Valls.
"These sums are impressive, and we understand it can shock our citizens," Griveaux said.
(
Updates with Griveaux comments.
)
Before it's here, it's on the Bloomberg Terminal.
LEARN MORE