China State Think Tank Sees Output Slowing as Investment Cools
Bloomberg News
Economy will expand 6.7% next year after 6.8% in 2017: CASS

Investment is seen slowing as property, infrastructure cool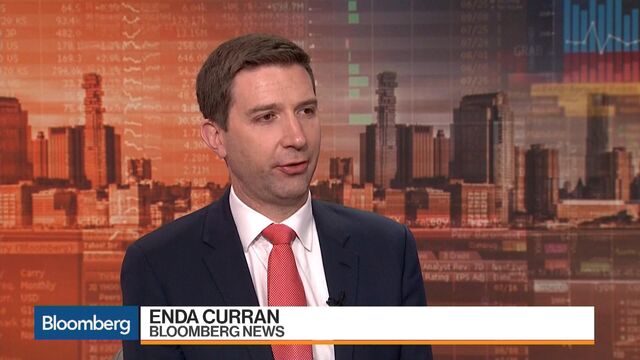 The world's second-largest economy will dial back a notch next year as investment growth slows, according to a top state think tank.
China's gross domestic product will expand 6.7 percent in 2018, after growing 6.8 percent in 2017, the Chinese Academy of Social Sciences said at a press briefing Wednesday. Growth of fixed-asset investment will decelerate to 6.3 percent next year, the academy said, versus 7.2 percent in the first 11 months of this year. 7.2 percent is also the median forecast for 2018 FAI growth from economists surveyed by Bloomberg.
Headwinds from a cooling property market and an environmental cleanup are weighing on the nation's economy, which still depends heavily on investment as a source of expansion. Containing financial risks has also been on top of policy makers' agenda, and that's expected to be the highlight of a communique to be released Wednesday evening after a leadership meeting in Beijing this week to map out economic policies for 2018.
"Property development investment will be restrained by the availability of capital, while tighter regulations to control local debt risks may damp growth of infrastructure investment," CASS said in a statement at the briefing on its closely watched annual economic "Blue Book." The same series -- with blue covers -- accurately forecast the stock boom starting in 2014 and surging property prices in 2016.

The researchers expect a year of "slow bull" on the country's stock markets in 2018 with the benchmark Shanghai Composite Index staying in the range of 3200 to 3700. They also highlighted stocks in consumption and environmental protection sectors as opportunities for investment.
The elite think tank, which advises senior policy makers, also forecasts stronger consumer inflation and relatively stable retail sales. Maintaining strong trade growth will be a challenge for the world's largest exporter given the rising anti-globalization wave and the appreciating yuan, it said.
The continued surge in factory inflation this year may be more resilient than expected, as the government's campaign to clean up the environment cuts production and strains supply of some industrial products. The drive has boosted the producer price index in 2017 by 0.5 to 0.6 percentage point, and will lift full-year PPI in 2018 by 1 to 1.2 percentage point, according to a segment in the Blue Book written by three researchers at the People's Bank of China.
Read more on what slowing PPI means for China's deleveraging drive
That means producer inflation will rise 3.6 percent in 2018, CASS forecasts, versus the 3 percent median estimate by economists surveyed by Bloomberg, and 6.4 percent in the first 11 months of this year.
Monetary-policy tightening and tax cuts in the U.S. will prompt capital and manufacturing businesses to repatriate, leading to tighter liquidity, higher financing costs or even asset bubble bursts in emerging economies, according to the academy.
— With assistance by Xiaoqing Pi, Yinan Zhao, and James Mayger
Before it's here, it's on the Bloomberg Terminal.
LEARN MORE