Carson Block Bets That a Nasdaq-Listed Chinese Internet Stock Is a 'Fraud'
By and
He's short selling China Internet Nationwide Financial

The stock has tripled in price since the company's July IPO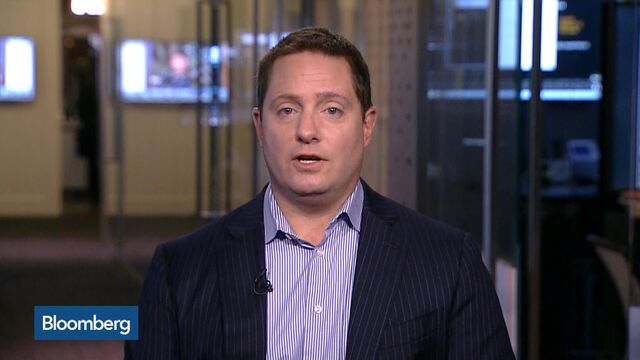 Prominent short seller Carson Block said he's now targeting China Internet Nationwide Financial Services Inc., a Nasdaq-listed stock that went public in July.
The chief investment officer of Muddy Waters Capital called the Beijing-based company "a fraud" in a report Wednesday. While China Internet Nationwide Financial Services says it makes money from lending, Block said almost none of its business is real and the only person taking out loans is the chairman, Jianxin Lin.
"Just in the name, the only thing accurate is China," Block said in an interview on Bloomberg Television. "There is nothing internet about it, there is nothing nationwide about it, and from our vantage point, it is a fraud and a total zero."
The stock briefly declined on Block's comments, then pared losses to trade 0.6 percent lower at $38.08 as of 12:12 p.m. in New York. Shares have been on a volatile ride since debuting at $10, reaching as high as $61 last month. The company's market capitalization is now about $840 million.
Block called the company "worthless," adding that financial statements it submitted to China's State Administration For Industry and Commerce showed it overstated revenue in filings with U.S. regulators. Block also said that loans the company makes are to "sham counterparties controlled by the chairman and his friends."
The Chinese company rejected Block's comments in a short blogpost late Thursday, saying Muddy Waters had hurt its reputation and market performance. It planned to hire a law firm to investigate, the firm said on its official account on Weibo, a Chinese Twitter-like service.
Short sellers like Muddy Waters make bets against companies, benefiting when their share price falls. Block rose to fame wagering against Chinese companies and publishing detailed reports on his reasoning. One of his past targets was Sino-Forest Corp., a forestry company, which lost more than two-thirds of its market value in two days after Block first criticized it in 2011, and was subsequently delisted.
Other targets have emerged relatively unscathed. Shares of Bank of the Ozarks are slightly higher after Block advised taking a short position on the company May 4. Man Wah Holdings Ltd. is up 17 percent since Block said June 7 he was betting on declines.
In the interview Wednesday, Block also accused major U.S. exchanges of shirking their duty to police markets and keep scams away from the investing public. A representative for Nasdaq didn't immediately return a request for comment.
"When I see exchanges open the doors wide to total scams like CIFS, I think that's un-American," Block said, referring to a remark made about short-selling earlier in the year by NYSE President Tom Farley.
The New York Stock Exchange and Nasdaq Inc., which both collect fees from their listed companies, have advocated looser regulations to make it easier to go public. At a hearing with members of Congress in July, Farley said that it's become too difficult for small companies to raise money. Farley said that companies face undue hurdles complying with the Sarbanes-Oxley Act, a 2002 law passed in the wake of the Enron Corp. and WorldCom Inc. accounting scandals to ensure corporations give truthful accounts of their finances. Nasdaq Chief Executive Officer Adena Friedman expressed a similar sentiment in a Nasdaq whitepaper this year, which argued that the U.S. should reform regulations to make markets friendlier to IPOs.
— With assistance by Kana Nishizawa
Before it's here, it's on the Bloomberg Terminal.
LEARN MORE